Peter Hook might not be a member of New Order any longer, but as he insists on proving whenever given the opportunity, he remains steadfastly committed to performing their songs - not to mention the songs of the band from which they evolved - in a concert setting.
As such, the legendary bassist has announced that he and his current band, The Light, will be hitting the road in 2024 for a lengthy run of dates throughout North America, the UK and Ireland.
Article continues below advertisement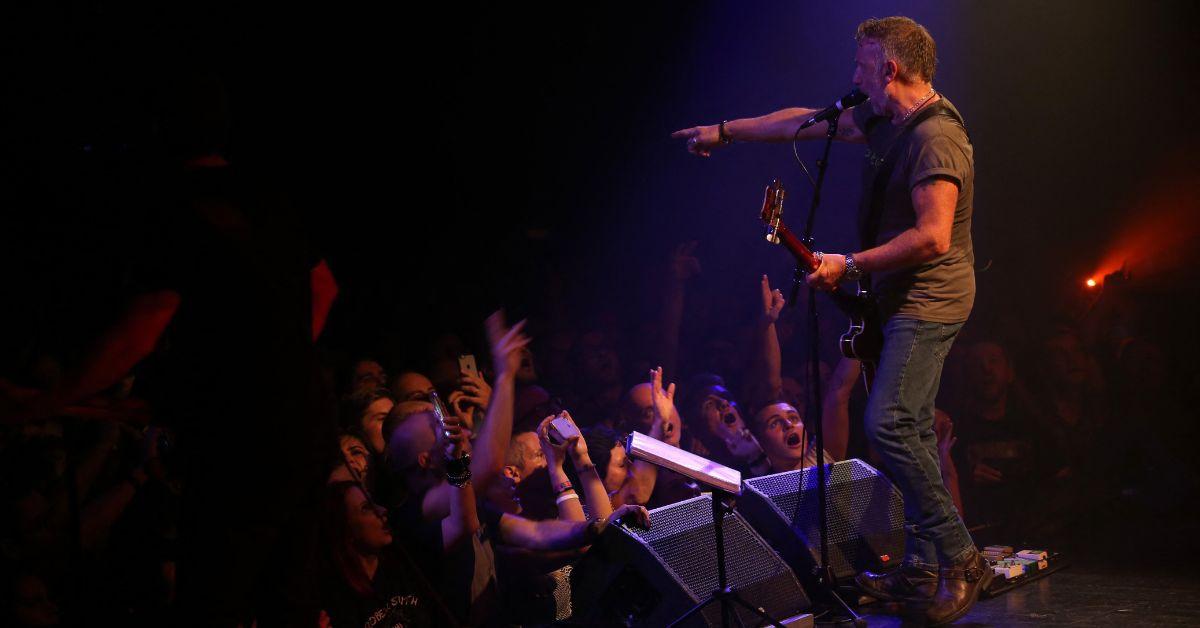 The big draw for this new round of shows is that Hook and The Light will be performing both Joy Division's Substance and New Order's Substance in their entirety. This comes on the heels of the band's 2021-2022 tour, which was called "Joy Division: A Celebration."
"It still amazes me how enjoyable it is to play the Substance LPs," said Hook in a statement about the tour. "The contrast between Joy Division and New Order is very apparent but both complement each other very well."
Article continues below advertisement
For years, New Order actively avoided performing any Joy Division songs, but in a 2008 interview with Bullz-Eye, Hook reflected on his recollection on how they slowly but surely decided that maybe it was all right to play them after all.
"This is my memory of it, but we were doing a gig in New York for Ruth Paulson, and it was a charity concert, and it was her birthday, and she asked us to play her favorite song, which was 'Love Will Tear Us Apart,'" recalled Hook. "And we did. And then we started wheeling it out for special days. Someone's birthday or whatever, or if it was a big gig. Or if we were just bored, we'd play it. And then we just got into gradual acceptance of how great the songs were. I mean, it was funny, because it was only when I saw 24 Hour Party People when I heard 'She's Lost Control' and I realized what a f***ing great tune 'She's Lost Control' was. And I thought, 'Maybe we should play that! F***, we should play that now!' So we started playing that. And it was a very gradual thing. I mean, I was really happy when we started playing a lot of Joy Division material, like we did for the cancer benefit in Manchester, when we did a whole Joy Division set. I thought it was fantastic, but Bernard thought it was very depressing."
For those who enjoy hearing the older material as much as Hook enjoys playing it, his tour dates for 2024 can be found below.
Article continues below advertisement
Tour Dates for Peter Hook and The Light:
Aug 31 - History - Toronto, ON
Sep 01 - 9:30 Club - Washington, DC
Sep 03 - Paradise Rock Club, Boston, MA
Sep 04 - Union Transfer, Philadelphia, PA
Sep 06 - Brooklyn Steel, Brooklyn, NY
Sep 07 - Riviera Theatre, Chicago, IL
Sep 10 - Royal Oak Music Theatre, Detroit, MIS
ep 11 - The Far Out Lounge and Stage, Austin, TX
Sep 13 - House of Blues, Houston, TX
Sep 14 - House of Blues, Dallas, TX
Sep 16 - Humphrey's Concerts By The Bay, San Diego, CA
Sep 17 - The Van Buren, Phoenix, AZ
Sep 20 - Hollywood Palladium, Los Angeles, CA
Sep 21 - The Warfield, San Francisco, CA
Sep 23 - Commodore Ballroom, Vancouver, BC
Sep 25 - The Showbox, Seattle, WA
Sep 26 - McMenamins Crystal Ballroom, Portland, OR
Sep 28 - The Ogden Theatre, Denver, CO
Oct 10 - Barbican, York, UK
Oct 11 - O2 Academy, Glasgow, UK
Oct 12 - The Firestation, Sunderland, UK
Oct 17 - Parr Hall, Warrington, UK
Oct 18 - Rock City, Nottingham, UK
Oct 19 - O2 Academy, Oxford, UK
Oct 24 - Dreamland, Margate, UK
Oct 25 - O2 Institute, Birmingham, UK
Oct 26 - The LCR, Norwich, UK
Oct 31 - King George's Hall, Blackburn, UK
Nov 01 - St. George's Hall, Bradford, UK
Nov 07 - Cheese and Grain, Frome, UK
Nov 08 - Tramshed, Cardiff, UK
Nov 09 - De La Warr Pavilion, Bexhill, UK
Nov 14 - Telegraph Building, Belfast, NI
Nov 15 - 3Olympia , Dublin, IE
Nov 16 - Leisureland, Galway, IE