Massive Attack
Article continues below advertisement
Steel Yard
Bristol, Friday, 1 March, 2019
As Mezzanine XXI rolls into Bristol, Massive Attack's latest multimedia experiment has already been dividing opinion on social media. Intercutting the 1998 album's original songs with cover versions against a backdrop of films co-created with documentary-maker Adam Curtis, to some it's another example of the band's willingness to disrupt conventions. To others, it's a deliberate act of sabotage. "I guess it was always going to divide people," admits the show's mastermind, Robert "3D" Del Naja. "But that was the purpose. For us it was an opportunity to question our collective memory and to challenge nostalgia as an idea."
Article continues below advertisement
Still, the opportunity to hear the band's most celebrated and commercially successful album performed live makes this homecoming feel like a truly special event, with even the city's buses grinding up Gloucester Road reprogrammed so their destination signs read: MASSIVE ATTACK. Building on a 2013 collaboration with Curtis staged at Manchester's International Festival, Mezzanine XXI attempts to take the earlier show's radical, installation-art approach to the widest possible audience.
"The idea was to move away from the knowing art crowd into a space where people wouldn't expect it," says Del Naja. "But keeping it within the realms of storytelling. I wanted it to work as a theatrical piece with an arc, each track working with the next track, telling a story."
An act who specialise in reinventions, Massive Attack famously almost reached breaking point with Mezzanine. Recorded just a few miles south of Steel Yard, a vast temporary hangar erected on a windswept former airfield, sessions were fraught and founder member Mushroom departed soon after release. But while initially met with some hostility, not least for having ditched the soundsystem-inspired grooves of Blue Lines and Protection, the album now stands as their glowering, post-punk-infused masterpiece. Not that Del Naja is interested in simply celebrating past glories.
"My memory of that time has been remixed so many times," he says. "It's very abstracted from reality for us. You're resurrecting old ghosts every time you bring the music back."
Article continues below advertisement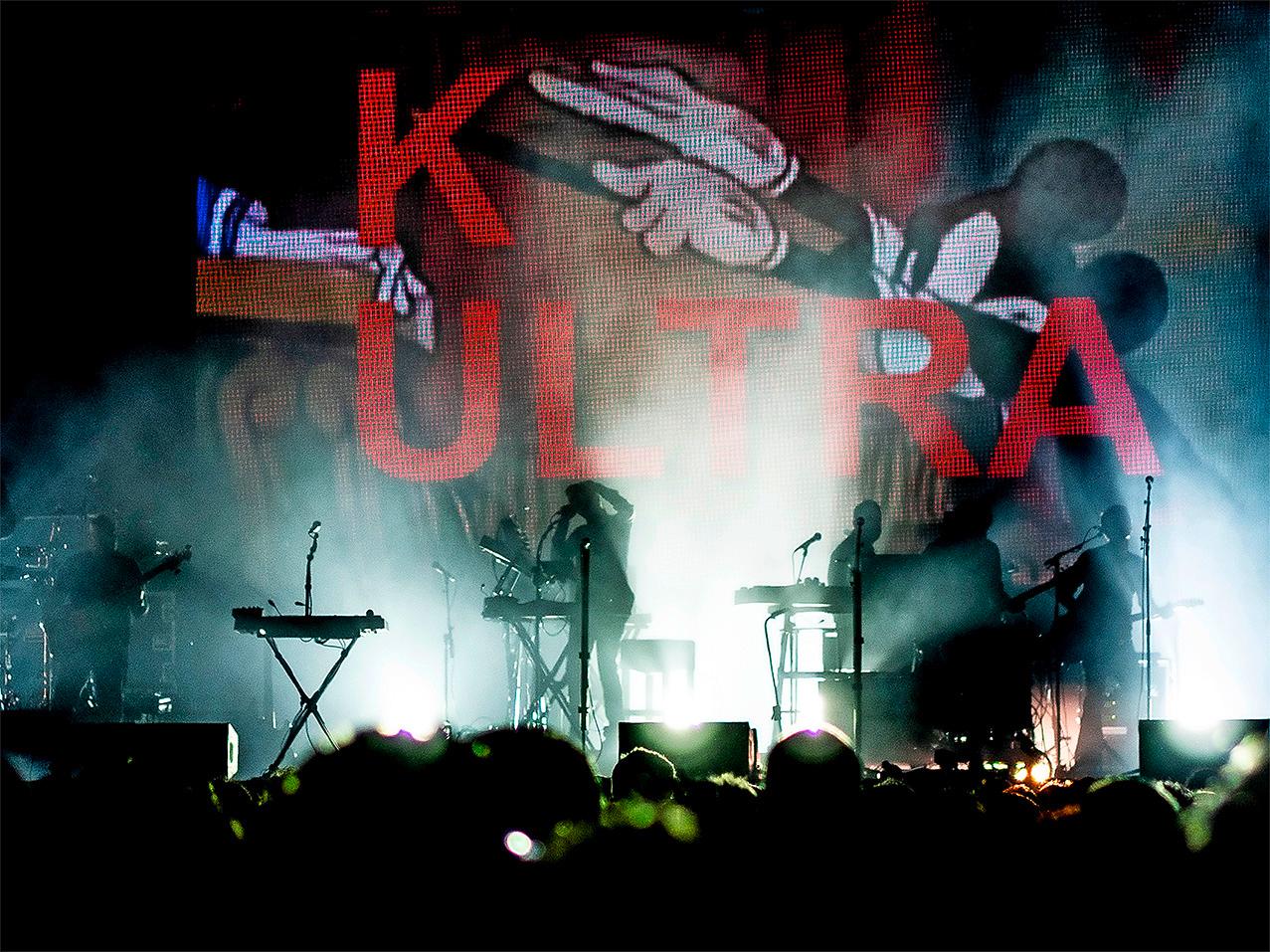 Like all the best ghost stories, Mezzanine XXI doesn't give away all its secrets at once. After the various band members assemble in silhouette beneath strobing video screens, they open with a surprisingly faithful, yet deeply ironic, cover of The Velvet Underground's bittersweet lament I Found A Reason – accompanied by dazzling video edits that include architectural renderings of future cities, archive news footage and a startling clip of Britney Spears being hounded by a pack of paparazzi.
Article continues below advertisement
Del Naja says the show's cover versions were all "directly sampled or referenced or hidden" within Mezzanine itself, but as Risingson's menacing skank collides with the twitchy post-punk of The Cure's 10.15 Saturday Night against another cascade of contrasting imagery, it's tempting to ask what it all adds up to. Initially bewildering, with Del Naja and cohort Grant "Daddy G" Marshall skulking around the stage like black-clad subversives, as the evening progresses the two-way synthesis of sound and vision starts to build into a fascinating meditation on contemporary culture which transcends the formal limitations of a rock concert.
That said, the music still reverberates with startling force. Filled out by a live band, with sheet-metal guitars high in the mix and electronically enhanced basslines flowing like molten lava, familiar grooves take on new dimensions. Reggae icon Horace Andy lights up an emotive Man Next Door and former Cocteau Twin Liz Fraser, diminutive and silver-haired, delivers an eerie, spectral reading of Black Milk. Given her previous aversion to touring, Fraser's performance seems all the more affecting – not least on a twinkling, near-ambient treatment of anti-war anthem Where Have All The Flowers Gone which plays out against blood-stained war footage and scenes from The Wizard Of Oz.
Article continues below advertisement
Such montages are central to Del Naja and Curtis's vision, even if some amongst the 15,000-strong crowd seem genuinely bemused by the abrupt stylistic shifts and high-velocity visuals. Yet as Mezzanine is broken apart and reassembled in real time, it actually builds expectation for its most powerful moments – the galvanic Inertia Creeps with its astringent Middle Eastern twang, a sinuous, still-mysterious Angel and gloriously scaled-up Teardrop, Liz Fraser's voice soaring bird-like in the giant hanger.
As on record, Group Four provides the slow-build finale, erupting into a head-spinning wall of noise. Then the screens go dark and they're gone. No encore, no announcements. What lingers is the feeling that something extraordinary just took place. Facing down our data- and image-saturated world, Del Naja and Curtis understand the importance of conjuring a spectacle that lives in the moment. Or as Del Naja puts it after the show, "Creating this sense of alienation in the midst of what should be familiarity." The response might be complex, at times even conflicted. But in revisiting their own past, Massive Attack now find themselves sounding more relevant than ever. RUPERT HOWE