Article continues below advertisement
Gaz Coombes spoke with Danny Goffey, then they spoke to Mick Quinn and told Rob Coombes: they were putting a deposit down on Supergrass and taking a lease out on the band for a year of serious gigs, their first since 2010. Niall Doherty meets them to find out if there are plans to move back in permanently yet… 
Worthy Farm, September 2019.
Supergrass frontman Gaz Coombes is nervously pacing outside the band's dressing room at the Pilton Party. "He's a well-known pacer," notes drummer Danny Goffey. "I am as well. We used to wear out floors in dressing rooms. We'd be going around in circles like Duracell bunnies."
Both have reason to be apprehensive. Tonight, Supergrass are the special guests at this annual bash on the Glastonbury site, organised by the Eavises as a thank you to locals. It's their first gig since 2010 and there's a vibe in the air that they just want to get it over with. Coombes heads into the dressing room and grabs a bottle of beer from the fridge, offering them around. When Goffey says he's not drinking, Coombes looks mortified. "I just wanted to be clear-headed and be able to deal with it," says Goffey, cracking open a bottle of non-alcoholic beer brand Erdinger. He takes a sip. "This tastes really nice! I thought it was gonna taste shit." He joins Coombes in more pacing. Behind them, bassist Mick Quinn sits on a sofa playing guitar next to Gaz's keyboardist brother Rob.
Article continues below advertisement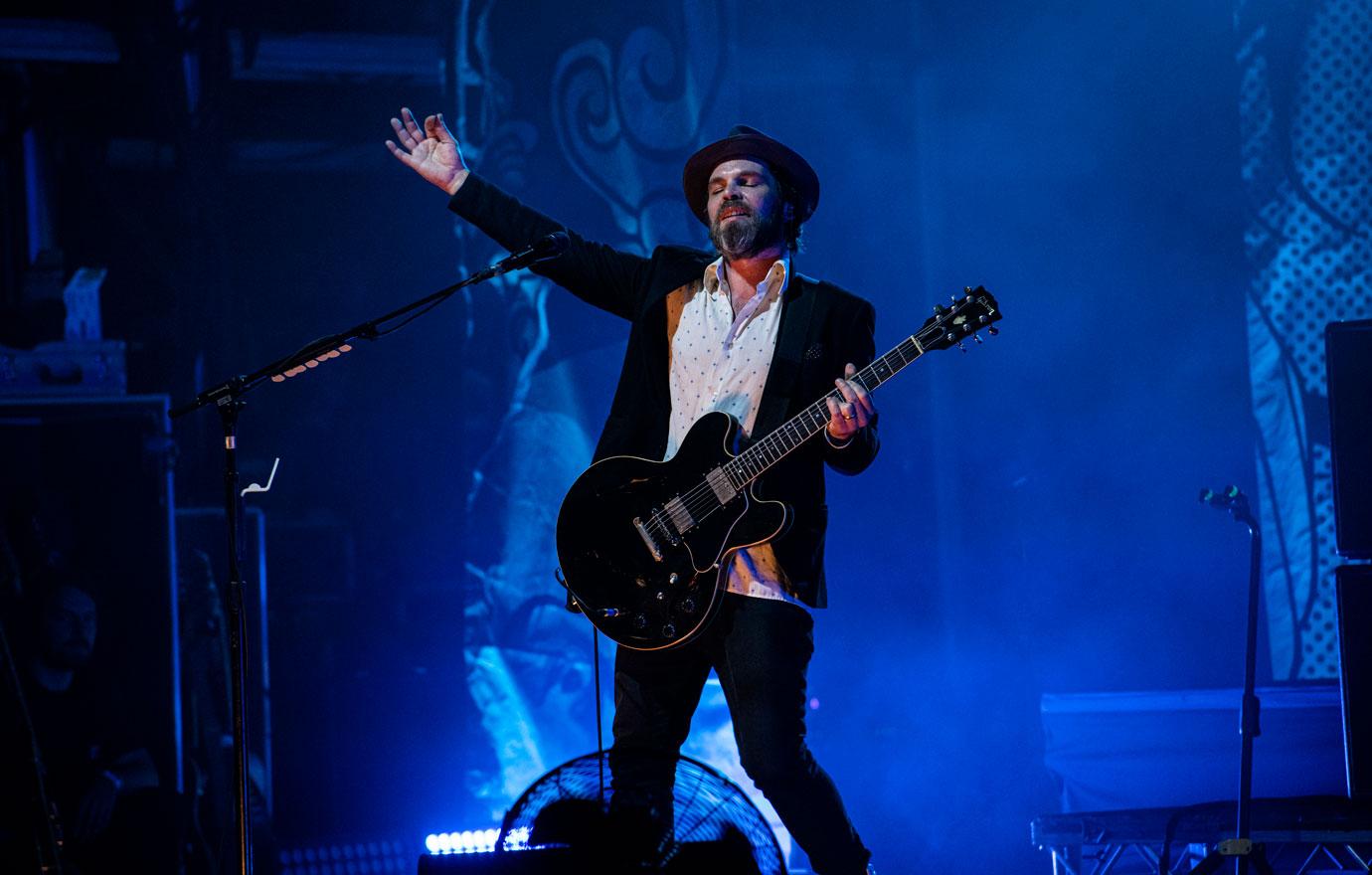 Out front, the crowd are beginning to filter in. It's a mild-to-chilly evening in Somerset, the sort that reminds you the seasons are on the turn. Families set up their picnic chairs and open boxes of wine and cider. By the bar, one punter is giving his full review of The Cure's headline set earlier in the summer. "Self-indulgent at first, but then they played the hits," he opines. In the next group over, a man is telling his friends about a huge woodlouse he recently found on the back seat of his car.
Article continues below advertisement
With no tents or superfence or men on stilts to help you place it, it's hard at first to get your bearings in the context of the Glastonbury site. But head up a pathway running away from the back of the stage, turn left and there sits the skeletal outline of the Pyramid Stage. You realise where you are. Pilton Party takes place where the John Peel stage would usually stand.
Supergrass have spent the week rehearsing and re-introducing themselves to songs they wrote as teens. "You get reminded of how succinct and direct and fun those songs were," says Coombes. In I Should Coco, they released one of the best debuts of the Britpop era, and they have a collection of giddy indie-disco anthems to match any other guitar band of their generation: Caught By The Fuzz, Alright, Lenny, Sun Hits The Sky, Richard III, Going Out, Moving, Pumping On Your Stereo, it goes on. They were young and they ran free, regular fixtures on your nearest festival bill, until they were middle-aged and out of puff. The fun had gone by the time they embarked on a flat farewell tour in the summer of 2010 and went their separate ways.
Article continues below advertisement
A decade away has reignited the spark, though, and tonight is one of two shows to accompany the announcement of a new tour and boxset to mark the 25th anniversary of I Should Coco.
They take to the stage at 8.30pm and burst through an 11-song set that recalls the dizzy exuberance of their early days. There's a nostalgic satisfaction about seeing them onstage together again, the delivery of the songs recapturing the joy that was absent during their latter years. It makes you realise how brilliant it'll be to hear these tracks being played to big crowds again.
Backstage afterwards, there's a feeling of relief. "That was alright, wasn't it?!" beams Goffey. "It's the first time I've ever played a gig sober." In the dressing room, Gaz's dad is giving his verdict. "It was tremendous," he says. He awards it a big 9.5/10. "I wouldn't have missed it for the world," he tells his son before departing. Like a sneaky schoolboy, Gaz rolls himself a joint as soon as Coombes, Sr is out of sight. He joins his wife Jools outside. She says Gaz hasn't been fully present in the run-up to the gig. "He's been on another planet. You've been consumed this week," she tells him.
Article continues below advertisement
Returning to Supergrass took time and consideration. The band have been a quartet since Rob became an official member in 2002, but they were a trio when they made I Should Coco, and in many people's minds have always been a trio. The chemistry between Gaz Coombes, Mick Quinn and Danny Goffey is the key to Supergrass. "I guess that's what this is about," says Rob, who watched from the outside as I Should Coco became a huge success, "these three guys from Wheatley Park School, in some fairly nondescript village, somehow set themselves above the thousand other kids that were recording in their bedrooms." They needed to look back and work out where it all went wrong before Supergrass could move forward.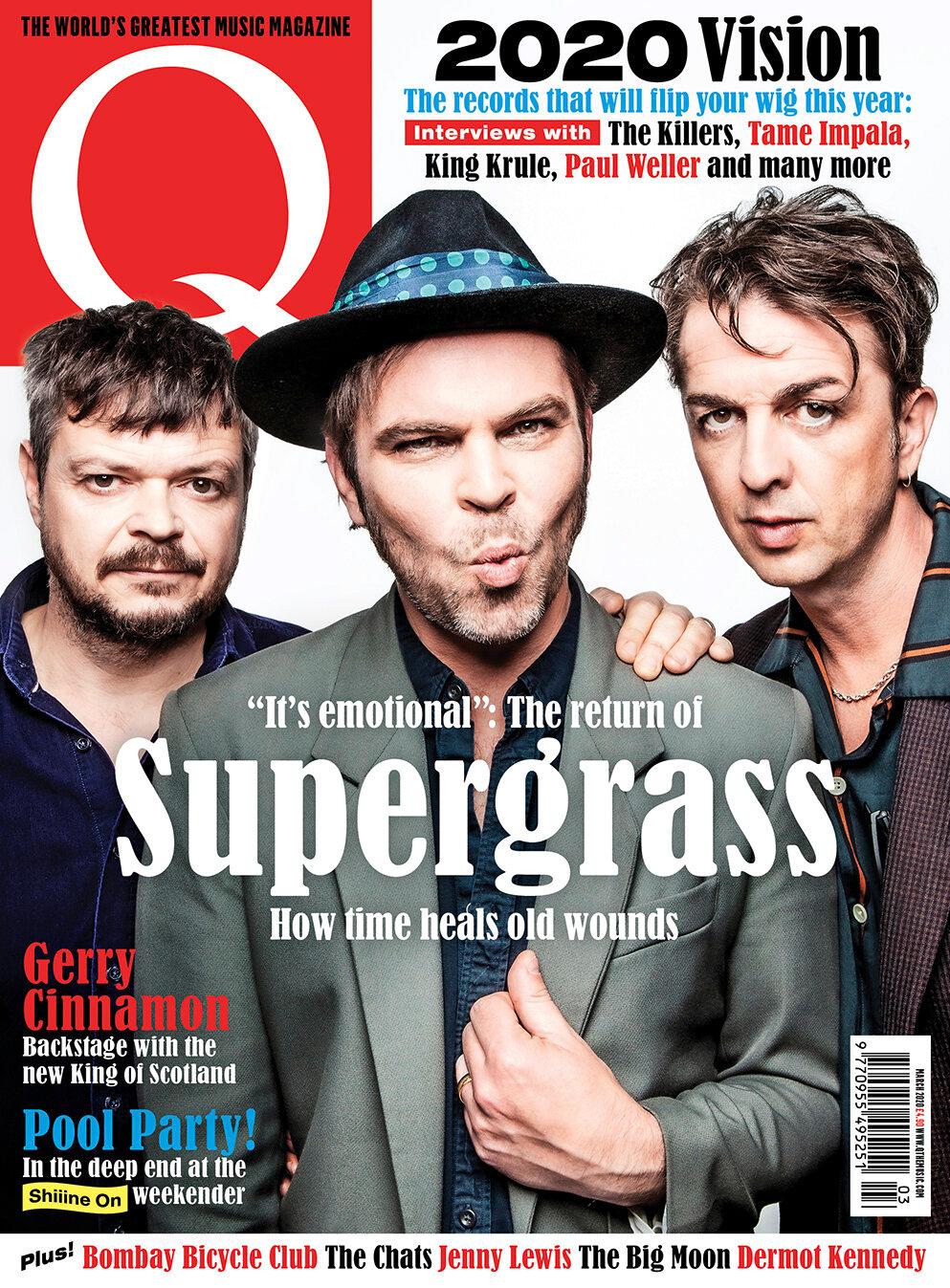 Article continues below advertisement
It's a freezing Wednesday morning in mid-November. Wheatley is a village 20 minutes' bus ride from Oxford city centre. Hop off at the roundabout, and after a few minutes' walk down a rickety country lane you come to a large farmhouse. The door's already open. "Come in!" says Gaz Coombes. "Coffee?" he asks, moving into the kitchen. It's a lovely view out the back, a large garden stretching out into the rolling Oxfordshire hills.
This was Coombes's family house. He moved back here with Jools and their children after his mother passed away 13 years ago. "It was only six months after my mum died, in the house as well, in the bedroom and stuff, then you're moving all your stuff in. First off we just came back for a few months, then it becomes a slightly more emotional decision."
Every now and then, he'll look out into the garden and see his neighbour Graham pottering around.
"He keeps an eye on everything. I'm like, 'Graham, what are you doing?!'"
He puts on a farmer-y Darling Buds Of May accent.
"'It's alright, Gaz, I thought I saw someone down the bottom there!'"
His dad is next door too. "I like that family community thing," he says.
Article continues below advertisement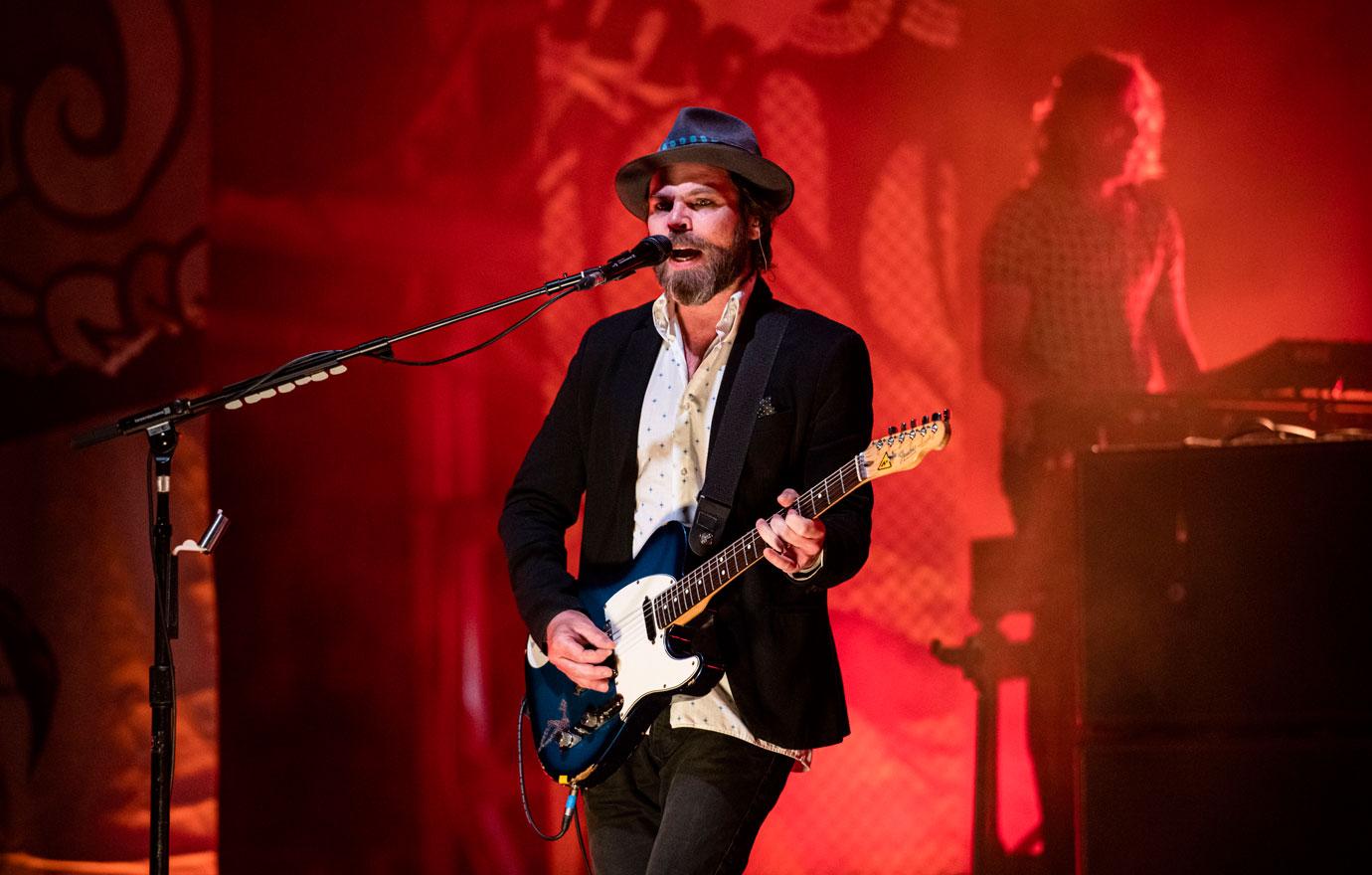 The demise of Supergrass was already on the horizon when he returned to Wheatley, as if he was replacing one foundation in his life with another. "I think I needed something solid at that time," he nods. "I wasn't really in a great place at all. It's strange to look back at it like that and see how it all slots together." As the kettle whistles, the family dog takes a moment to inspect today's guest. "Georgie, get down!" says Coombes, pouring the coffee.
Article continues below advertisement
We settle into what was once the front room but is now Coombes's studio. He's at a loose end at the moment. After driving the kids to school and walking the dog, his days are up for grabs as he waits for the reunion tour to begin. "In a period like this where it's the calm before the storm, you would've thought, 'That's great, you can chill out', but I find it hard when there's no focus," he says.
Coombes has had the most success of Supergrass members since they split up. His debut, Here Come The Bombs, was a cagey first step as a solo artist but 2015's Mercury-nominated Matador established him as an artist in his own right. It vindicated his decision not to play any of his old band's material in live sets, a move he questioned when playing to "40 people at the Birmingham Academy". By 2018, he was playing venues such as the London Palladium. He feels he's earned the right to rejoin his old band. "I feel like it's good timing cos I've done enough. There's no element of desperately needing the money," he says.
Article continues below advertisement
When Supergrass first formed in 1993, Coombes's major hope was to get signed and make a record. But the band soon exceeded the-then 17-year-old's low-level ambitions. I Should Coco went to Number 1 in the UK for three weeks, going on to sell more than a million copies. In the wake of its success, the trio were summoned to Hollywood for a meeting with Steven Spielberg, who wanted them to be the main characters in a new TV show. "We took our girlfriends and had a meeting at his ranch," remembers Coombes. "We were welcomed by Bunny, his assistant. We bonded about episodes of The Twilight Zone from the '50s, which was maybe me trying to anticipate the inevitable cheesy approach that was going to be suggested, the band living in a house together like the Monkees. It was flattering and really cool, great to meet him, but it was really obvious to all of us that we didn't want to do it. It was just quite funny, respectfully very funny."
There is an affable, unruffled air to Coombes. It doesn't take long in his company to realise he could never have been the zany singer getting up to all sorts of capers in Steven Spielberg Presents The Supergrass Show. There's an easy vibe to him, and he's funny, but most of the episodes would probably have revolved around a scenario where Gaz gets some weed and listens to a load of vinyl. Credits roll.
Article continues below advertisement
It was Coombes who instigated Supergrass's split in 2010, essentially leaving the band halfway through the making of their planned seventh album, Release The Drones. "I remember feeling uninspired," he says. "You'd take CDs with you on your journey home and it was the first time I'd never play them to anyone, which was weird. I was trying to be optimistic, thinking that they weren't ready, but I just wasn't digging it. I just felt quite sad about it, really."
He says the worst moment was when the band hosted a playback to a potential new label. "We played them two or three tracks and I was sitting there thinking, 'These aren't very good.' It just felt horrible and demoralising. It was painful and I didn't see a way out apart from leaving the band."
Behind a row of guitars in the corner of the room, there's a sudden shuffle. "Is that you, Dexter?" he enquires. A cat emerges at his own leisurely pace. "Fucking hell, that freaked me out."
Calling a halt to Supergrass was a huge thing to do, he explains. It was a fully operating machine, one that was touring every year, playing festivals and supplying a big income to both band members and crew. But he also knew quitting was the only way to sort his head out. "I felt responsible. I didn't want to fuck things up for anyone else. But once I'd decided to leave, I felt really good, that weight had gone. I had no thoughts about doing any music on my own, I just wanted to not have that feeling with music before it got too much and did any damage."
Article continues below advertisement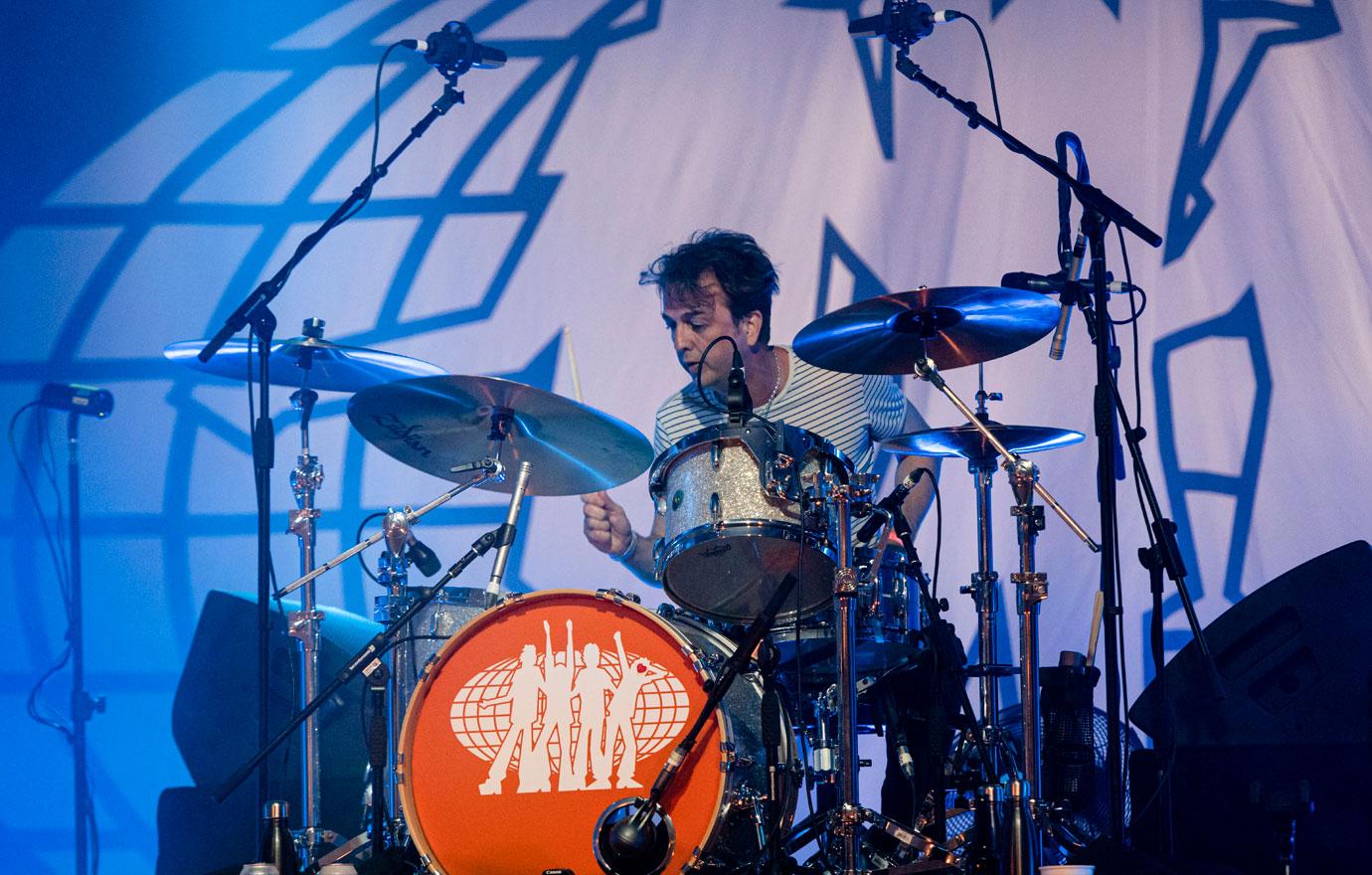 With that in mind, he is being cautious about the reunion and says he currently has no plans to make new music with Supergrass. "I don't want to rule anything out but that's not part of it. It's just this one year I'm up for, doing these gigs."
Coombes was adamant that these shows needed to be worth reanimating it all for. "I definitely had no intention of going round clubs with Supergrass for a year," he declares. "I'm happy to rough it on my own stuff but if I'm going to put everything on hold and do some Supergrass gigs, let's make it really special and not overkill."
Article continues below advertisement
We finish our coffees. Another Supergrass appointment is scheduled at the next village over, two and a half miles away in Cuddesdon. It's a bit of a walk, Coombes advises, and he's driving in that direction to run some errands anyway. We hop into his Mini Cooper and he zooms down the country roads.
The frontman has done minimal thinking about Supergrass over the past decade but has enjoyed allowing himself a little look back today. "It's a nice opportunity to talk freely about Supergrass," he says. "I've been avoiding it over the past 10 years."
The period away has also helped him reflect on how they ended up splitting. "We're totally different characters," he says. "It's what made it work and what broke it in the end." He pulls up outside the Bat And Bull pub, says his goodbyes, and speeds off. Mick Quinn awaits inside.
Article continues below advertisement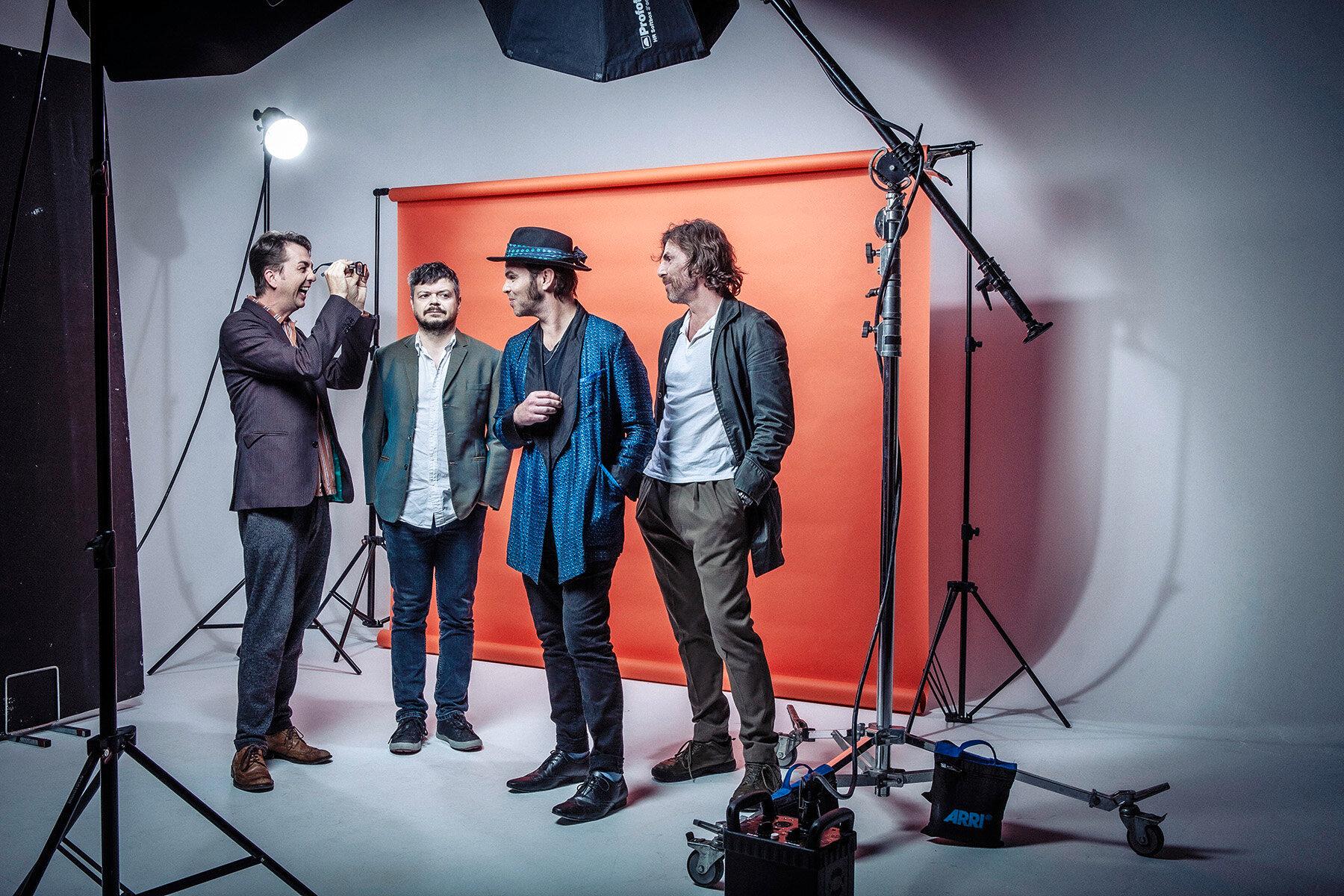 Gaz Coombes says that if he ever has a question about the old days that his hash-infused brain can't answer, he can always ask Mick Quinn. The bassist always remembers. Quinn isn't just the band's walking memory bank, he's also their official archivist, trusted to put together both the 20th-anniversary deluxe edition of I Should Coco and the mammoth Strange Ones boxset.
"It's just by default," shrugs Quinn, munching on a bag of crisps in between gulps of his ale in this peaceful, rural boozer. "The other two were busy doing other things."
Article continues below advertisement
Perhaps, but Quinn talks about putting a boxset together like a man who was born to put a boxset together. "It's about how do you cover your entire career in a boxset with a limited budget?" he explains. "You split it into what you want to do for the extras, live stuff, you want B-sides, rarities, and then you start whittling those away." Close your eyes and there's a slight whiff of Saxondale in the relish he takes running through the small print. "I've got a guy who works in Dutch radio," he continues. "He's a Supergrass fan and collects bootlegs and stuff. I gave him a ring, asked what bootlegs he had."
Despite the sense that Quinn is the sort of person who would corner you at a house party and tell you about the sound deficiencies of heavyweight 180g vinyl, he also found collating the anniversary release quite a sentimental experience. "I was crying," he says. "You look at yourself when you're 20 years old, listening to how you used to play, the passions you had, the photos. We had our kids through that whole period, I had a failed marriage through that period, Gaz's mum died, all our life is in that 17 years, so it does get emotional, because you've poured a lot of that into the songs. They're in there when you listen to them." He pauses. "Then you're confronted as we are now, these wrinkly old fuckers in a practice room."
Article continues below advertisement
Recently, he found a photo of Coombes he'd taken the year the singer grew his trademark sideburns.
"He must have been 15 or 16 and he just looks like Neil Young or something," he marvels. "It was like, 'How did Neil Young turn up in our village?'"
The pair hit it off working together in the kitchen of Wheatley's Harvester restaurant. Coombes's band The Jennifers, who featured Goffey on drums, had recently split up. "Gaz's mum had said to him, 'This music stuff's going nowhere, you need to go and get a job.'" They would get into intense conversations about Frank Zappa albums while washing dishes. "We were simpatico," he says. "Then one afternoon he brought Danny over and I thought, 'What a nutjob.' When he got behind the drumkit, he became this incredible musician." He'll never forget the day the trio set up in the Coombes's dining room and played together for the first time. The immediate sound they made was better than any band he'd played in before. "We instantly knew it was really good," he says.
Article continues below advertisement
There were a few names before they settled on Supergrass. Shirley And The Kids was one, and Nandini was another. "Danny had this girl he was trying to knock off called Nandini so obviously he was going, 'Let's call the band Nandini just so I can get laid.'" They eventually called themselves Theodore Supergrass, shortening it a few weeks later.
He didn't realise it at the time, but their early burst of success came at a price. "I had my first daughter the week we released Lenny, and Alright came out eight weeks after that. I think it really did my head in, the fact I'd become this new responsible dad and all of a sudden you're really famous. The height of it was pretty shocking. We came back from America and we'd made it. Your friends' mums would come round for autographs and stuff. It had all changed."
Article continues below advertisement
Quinn says that a two-year hiatus would have sufficed rather than a full split, but he's learned a lot about himself over the intervening period. He's more patient in a lot of ways, he says. But… "I still put my foot in my mouth a lot and say the wrong thing but I guess I'm slightly more aware of it now. I'm quite pig-headed about certain decisions. I'm trying to back off a bit and compromise a bit more."
Musically, he's kept his hand in. He has been a permanent member of shoegazing veterans Swervedriver, also from Wheatley, since 2015. There was also a stint playing with the house band at an open-mic night in Oxford. "I just branched out," is how he describes it.
But he has one group he'll always be associated with. "I'm always Mick from Supergrass," he says. "I can't get away from it. Even when Supergrass doesn't exist, I'm still Mick from Supergrass." He finishes his pint, gets into his car and darts off. He's got to make the school run.
Article continues below advertisement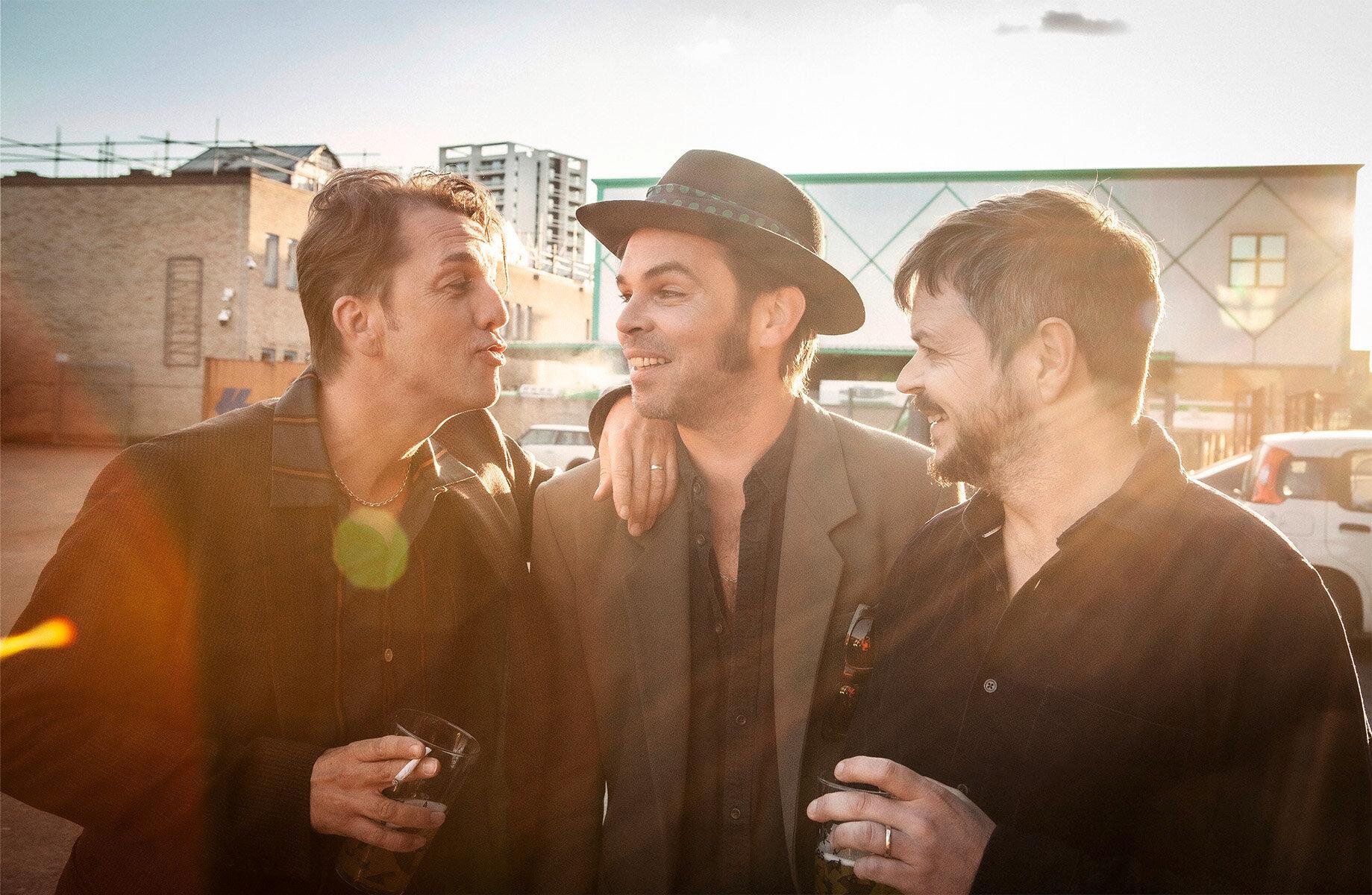 A week later, Danny Goffey is sitting in the hushed lobby of the Dean Street Townhouse Hotel, Soho, London after deciding the bar next door is too noisy. He is no longer off the sauce and has made sure that pints are delivered to our table. He takes a congratulatory sip.
Supergrass's reunion was all Goffey's doing, with some of the credit going to his wife Pearl Lowe too. It was a baking hot summer's day in 2018 and the band's ex-drummer was lying on a sun lounger harping on about how 2020 would be the perfect year for them to re-form. By this point, you imagine Lowe had listened to a lot of this. "For fuck's sake," she finally snapped. "Shut up about it." "But it would be a good time for us do something," he told her, "because it's 10 years since we split up and 25 years since the band started."
Article continues below advertisement
After getting the gee-up he needed from his wife, he went off and prepared a Dragons' Den-style pitch to present to his former bandmates for a reunion. He phoned Coombes to tell him about it and it passed muster. Goffey thinks that Supergrass have unfinished business, and sees more in it than just the live dates. "I really think there's another album in us," he says. "It's just a question of getting it right, getting it so it's relaxed. Maybe we could do it somewhere hot, somewhere mellow."
He has a notepad from the last time Supergrass were in the studio and scrolled through it recently. "It's loads of pages of really angry cartoons," he says. "Like Tim Burton-style weird monsters with knives and shit. I looked back on those and thought, 'Fuck, I must have been in a not happy place.'"
He was in the middle of doing his weekly shop when he got an email from Coombes saying that was it, the band was over. "I was in Asda in the vegetable section," he says. "I was like, 'Oh, OK, well that sorts it but fuck, yeah, mental.' I think I put all my luxuries away and went to shop own-brand straightaway."
He settled into family life in Frome, Somerset. It took him a while to realise what he wanted to do, which is one of the reasons that he ended up as a contestant on Celebrity Masterchef. "That was purely out of boredom," he states. "I just thought, 'That'll be a laugh.'" His culinary career never took off, so instead he made two solo albums.
Article continues below advertisement
It's a different age for bands now, he says, because you can air your grievances in a WhatsApp group rather than letting them fester. "The world feels more democratic and organised and structured because everyone can talk more on platforms," he comments. "I wish I could make a book out of our WhatsApp messages, it's fucking hilarious, there's always someone really throwing their toys out the pram. Arguments tend to not be about massive things, they're about the details, like a photo where someone's nose looks big or something."
Goffey is excellent company, with a charming dandy-ish quality to him, constantly acting like he's about to get told off for something but secretly knowing he won't ever get caught. He's the Supergrass member you can imagine having enough entertaining scenarios to fill a Spielberg TV show. He recalls one afternoon in the early days when he parked his purple Ford Escort on the slip road outside Coombes's house. "I left my car with all the instruments in, went in to see Gaz, we had a spliff and a glass of wine, and I came out and my car wasn't there." He looked down to the motorway and there had been an accident. "I realised I'd gone into Gaz's but I'd left the handbrake off and it had rolled down onto the motorway and a car had smashed into it. I ran back in and said, 'Gaz, I'm gonna have to run away, something really bad has happened, I don't know what to do!' The police were there so I went back out and said, 'Yeah, it's my car… but I wasn't in it!' But someone had driven into it and had to be cut out by the ambulance."
Article continues below advertisement
He looks up and realises how serious this all sounds.
"But they were fine!" he says, over-reassuringly. "They were totally fine! It was a Volvo that had crashed into it, a really strong Volvo. All our gear was smashed up in the back. I said to the police, 'When I went in, there was a gang of kids mucking about, I think they might have pushed my car.'"
If he could give advice to his younger self, Goffey would say, "Drink loads of water, eat well and don't do two nights in a row as benders." That's what he tells his kids. He orders us a pint for the road and wistfully recalls the days when he would do five-night benders. He'll be much better behaved touring as a man in his mid-40s. "I'm just really buzzing, really excited," he says. "It's all set up for a good year, then something hopefully down the line." We neck our pints, and he heads out into Soho in search of some cigarettes.
Article continues below advertisement
**
A year's worth of touring big venues, playing to sold-out crowds in the sort of places they wouldn't have been able to fill when they split up, lies ahead. The love for Supergrass has come back round. Maybe there will be some new music, too, if Coombes can be convinced.
Back at Pilton, basking in the glory of a successful comeback show, the frontman had reflected on how the story of Supergrass couldn't have gone any other way. "We needed that distance of time to forget some of the shit and pain at the end," he said. "It was fucking painful. I needed 10 years." Beyond the solo albums and open-mic nights and Celebrity Masterchef appearances, Supergrass is where Gaz Coombes, Mick Quinn and Danny Goffey belong.
It's what they started as teenagers, where they turned into adults, what pushed them away from each other and brought them back together again. They're the strange ones. Supergrass is where everything makes the most sense.