This article originally appeared in Q401.
Article continues below advertisement
Florence + The Machine released their debut album, Lungs, 10 years ago this July. Since then, Florence Welch has grown into one of music's most celebrated British stars. But just as her live show reaches new heights, Welch has decided that fundamental change is necessary. Is it the end of the beginning, or the beginning of the end? Ted Kessler finds out. 
The great American writer Maya Angelou once declared that "stepping onto a brand new path is difficult, but not more difficult than remaining in a situation which is not nurturing to the whole woman." That is a message that Florence Welch understands well. It's why Florence + The Machine's empathetic revolution will soon be paused, even though its power is now at its most irresistible. The whole woman needs some nurturing.
This gentle revolution didn't always appear all-conquering. It began in 2006 as an off-the-cuff experiment in teenage self-expression, with improvised "pirate-folk" songs called things like My Boy Builds Coffins, sung in a London pub to five people by Florence Welch, then 19, and accompanied by a friend on guitar playing rudimentary blues chords. And it halts now, in arenas and stadiums across the United States and Europe, with Welch blessing the masses of disciples who throng to her shows, looking for emotional guidance in the communal singing of her lush, orchestral anthems, like lost ships attracted to a beacon.
Article continues below advertisement
Ten years ago this month, in July 2009, Florence + The Machine released their debut album, Lungs. For most of the subsequent decade, the intensity of Welch's artistic life Venn-diagrammed dangerously with the chaos of Florence's self, but now, just as an equilibrium of sorts has been achieved, she will take a step back for a while. Florence Welch is going through changes and she needs some space. It's definitely not you, though. It's her.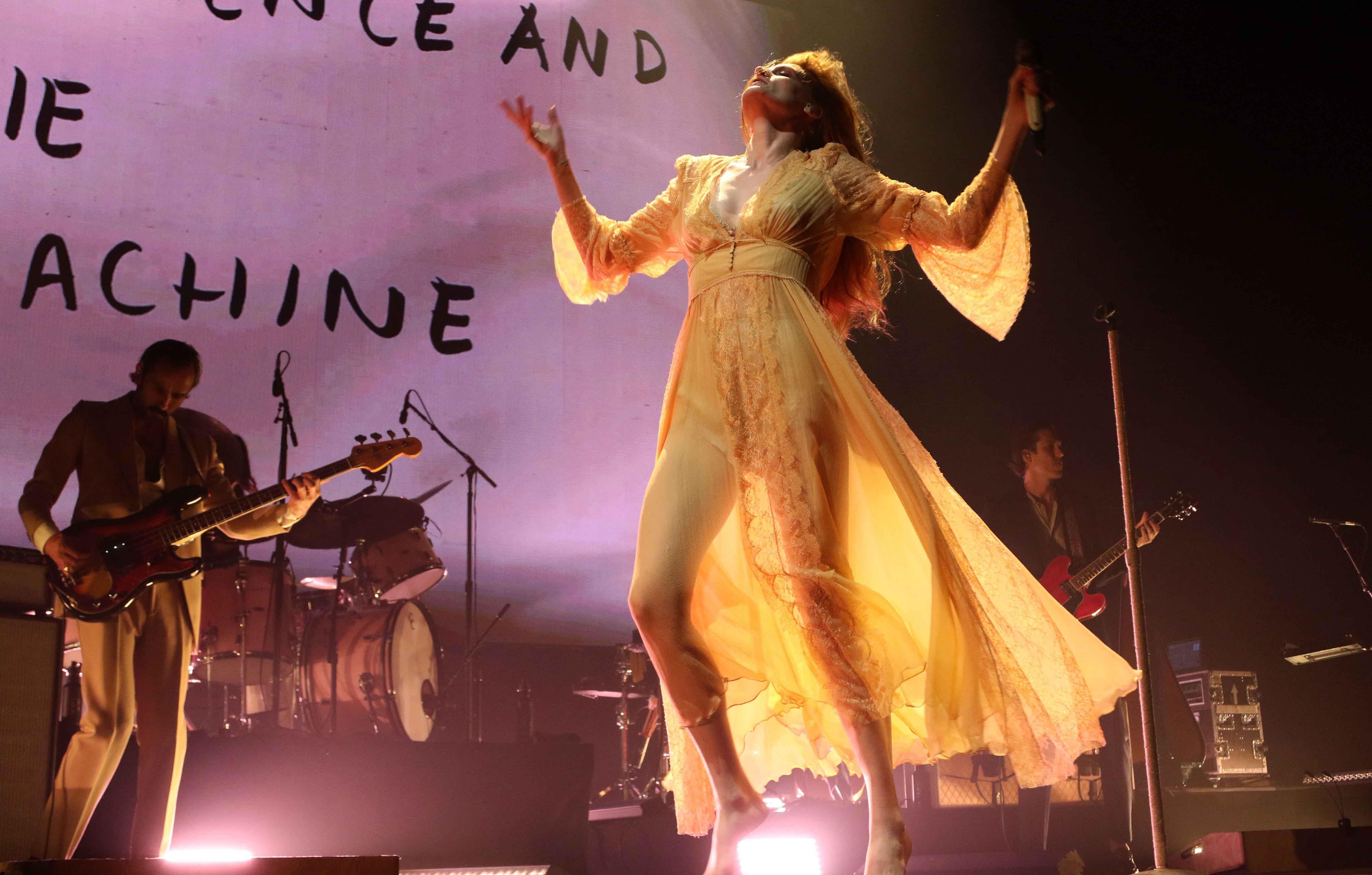 Article continues below advertisement
Welch arrives at the Riding House Café, on Great Titchfield Street, in Central London, on an early May morning, orders porridge and lets it congeal untouched as she explains why a change is about to come. Before leaving her home in South London this morning, she was packing for her forthcoming seven-week tour, trying as usual to organise six-months' worth of clothes and books into containers designed for far less. She took a moment to reflect that this will be her final US tour for a long while, the last time she will be folding her life into containers. She felt happy. Once, she would've spun into anxiety at the thought of tour-managed routine disappearing over the horizon, to be replaced by infinite possibility. Not now. The axis has shifted.
"I've been doing it for 10 years, and I'd quite like to experience a different way of life," she explains. "My whole adult life has been making an album, then going on a tour, in a cycle, and it's been very punishing for me, mentally and physically. It's draining. I'm drained."
Article continues below advertisement
She's 32 now. She was 22 when Lungs came out, a flame-haired, free-spirited whirlwind, haunted by the ghosts she regularly saw and the emotions she felt more intensely than most, dancing through London blotto and barefoot, nature's child up for just about anything. The routine of touring saved her from unchecked chaos, while also insidiously enabling her worst impulses by allowing multiple action replays of her self-destruction in different cities, without tangible consequences. "I would wreck one city, close the door on it and move on to the next. If nobody sees the damage, did it happen?" she asks.
That person is no longer really here, though. Now there are just the incredible highs of performance, followed by decompression, travel and the emotional slog back up to the summit of a show the next day. It's a routine that has worn her out. So after this tour, Florence Welch will not be returning immediately to writing and recording an album that will be subsequently toured globally for two years. Instead, she'll be exploring books, fashion, dance and – whisper it – musical theatre. She'll be thinking about Florence + The Machine, too, and writing new songs, of course. But it's important for her at this decade milestone of her first album to imagine that the journey from 32 to 42 will be appreciatively different to the journey she undertook between 22 and 32.
Article continues below advertisement
"I feel like there's a different way to exist," she says. "I'm excited that this is my last big run of touring, probably for a long time. Performing is my very favourite thing, so I will always do it. I am living my childhood dream, literally living it. I just don't know if my childhood dream involved this many business hotels, beige leather and windows that don't open so you can't commit suicide."
There's an element of déjà-vu in this declaration, she concedes. "I do say, 'Never again!' after every album. This time though, it feels different."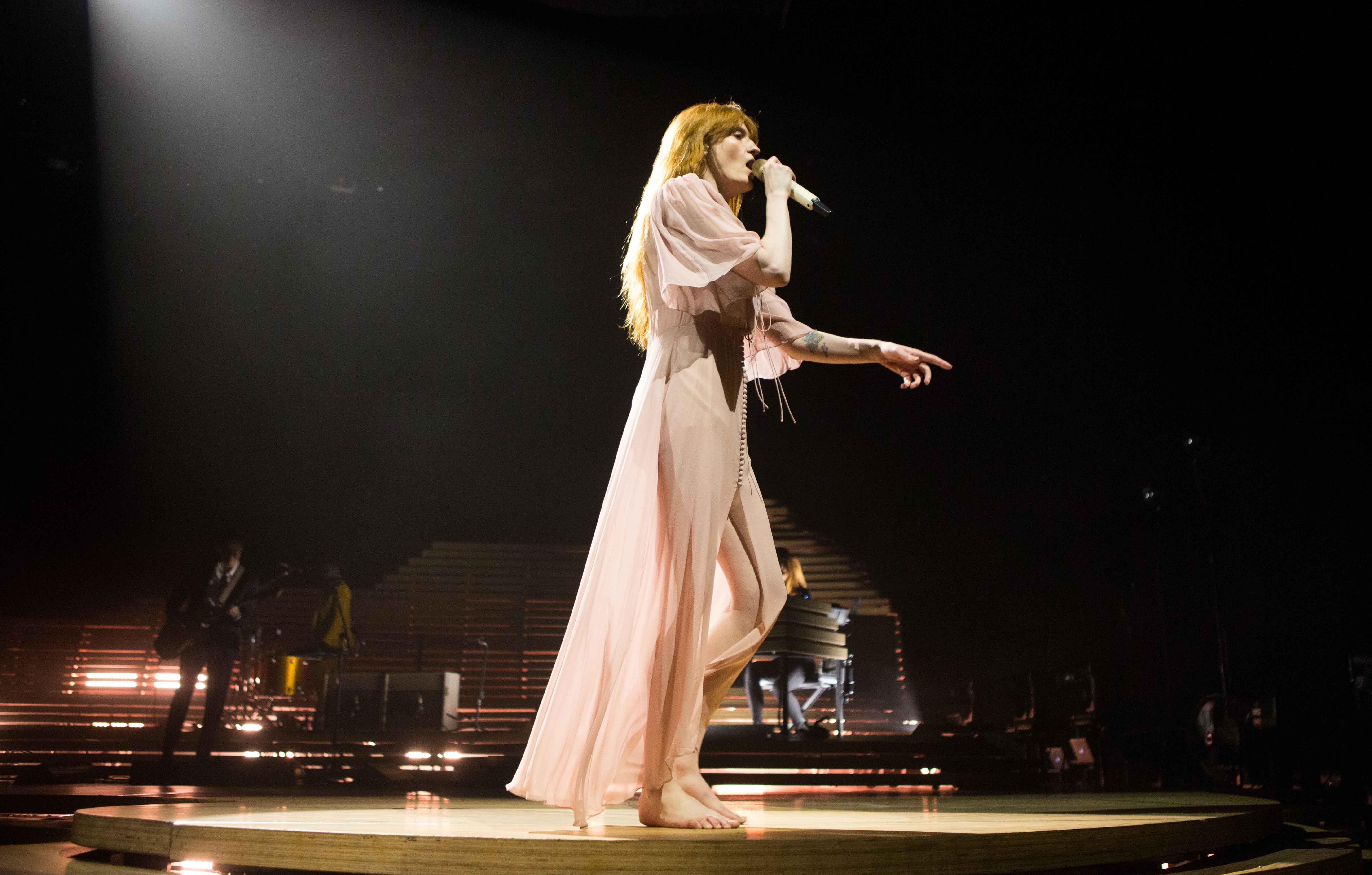 Article continues below advertisement
The big difference is the sense of resolution in her performances. The High As Hope album, from 2018, was Welch drilling down beneath the hedonistic excess of her youth, to dredge up the anxieties she still felt as a sober adult, to reveal who she was then, but still intrinsically is now, despite sobriety. In doing so, she was admitting things to herself as much as to anyone else. There was more space in the music, too, more air, and live this increased openness has been embraced by her army of fans with gusto. Every night feels like an awesome religious commitment to the faith by both parties.
"You do sense that there's a real community of love there," she agrees. "It has something to do with how vulnerable High As Hope was. People really leave it all on the floor." Each night during Dog Days Are Over, she asks everyone to turn to one another and tell them they love them. "They're not looking at me. They're looking at each other and you can feel that community of love. That's why I feel it's safe to leave it behind for a while now. We reached a marker together."
On cue, the waitress suddenly recognises Welch as she delivers a coffee. The waitress doesn't say anything other than "Oh!" and stands frozen, with a slightly odd smile.
"So nice to meet you," says Florence, softly, offering her hand.
"And you!" says the waitress, "I'm such a fan… I can't believe it."
Article continues below advertisement
"Thank you so much for saying that," replies Florence, as the waitress gathers herself and returns to routine.
This happens a lot when Welch is out and about, and is not intrusive. People are respectful of her space, she says, and she's always happy to meet fans. The only real problem is people sneaking secret camera-phone photos.
"Don't do that," she says. "Really. It's so invasive."
We return to not eating our plates of food, talking for two hours as she unpicks her albums in detail, but throughout Welch keeps returning to one theme: she needs to change her routine. No more huge tours. No more. Every anecdote leads back to this place: it's the end of an era. And if so, we should see it for ourselves.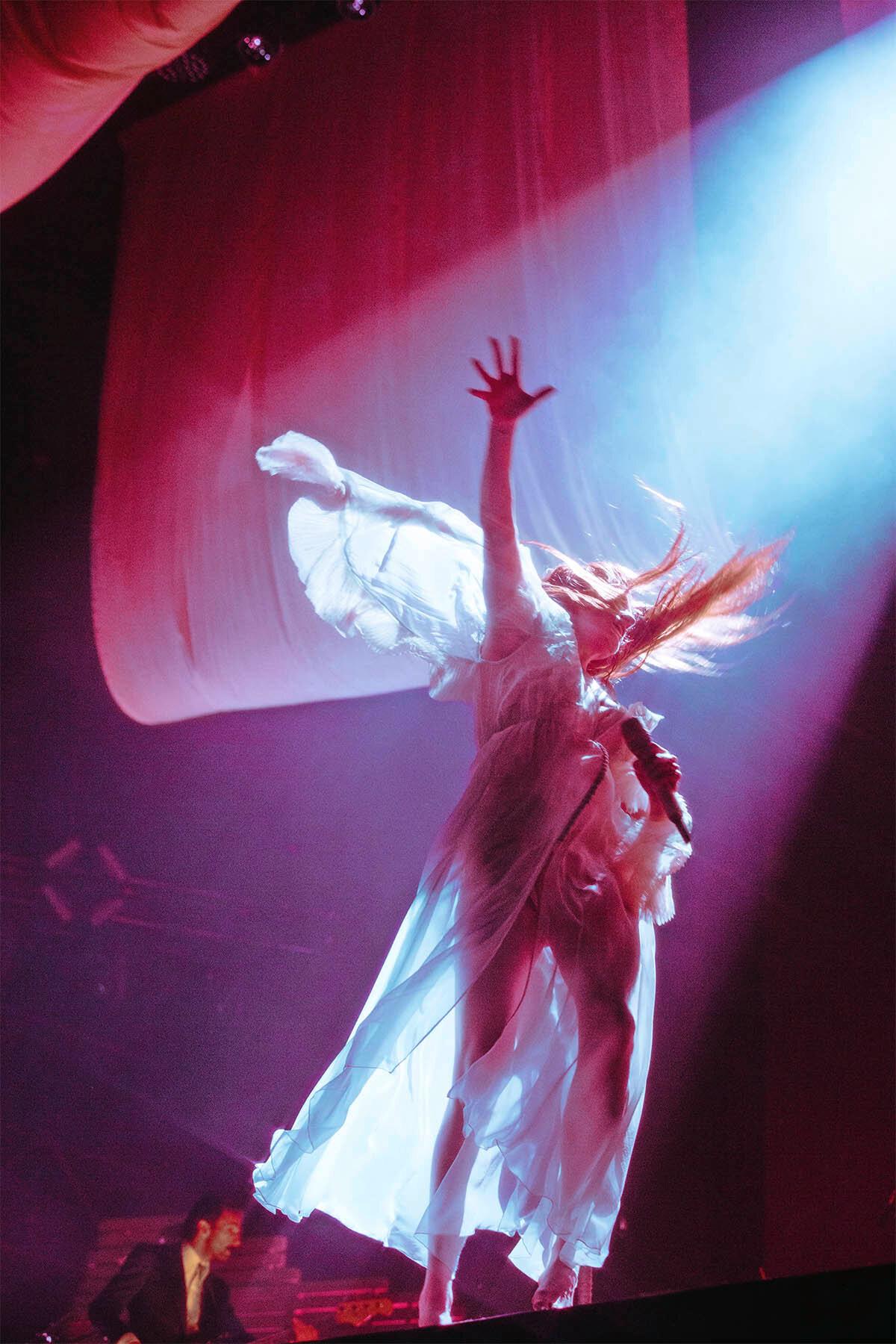 Article continues below advertisement
The Hudson Suite, on the 19th floor of the Four Seasons New York Downtown, has incredible views of the new Oculus Building, a futuristic shell-like shopping mall nex t to the site of the World Trade Centre. But, like so many rooms that Florence Welch finds herself sleeping in, the windows won't open. It is 1 June, a hot, muggy Manhattan afternoon, but the climate is perfectly controlled with a switch in this large, bright space. Something about that fact intrinsically depresses Welch.
Her assistant has nonetheless done her best to Florence-fy the suite, as she does with all hotel rooms that they check into. There are lavish throws over the sofa, beading hung from the drinks cabinet, photos and artwork displayed on all surfaces, including several pictures of herself delivered to her by fans, alongside handmade books too. There are also crystals everywhere. Some are her own, but many are gifts from well-wishers.
Article continues below advertisement
"I don't know what they all symbolise, or what their particular powers are, because I get given so many and I forget," she says. Nevertheless, she keeps them all. "Of course!" She keeps everything that's practical to travel with, she explains. "Look at this!" she says, running next door into her bedroom. She returns with a small, matted doll. "It's made from real hair, cut from someone's head!" she says, proudly. So it is. A fan gave it to her and Florence sleeps with it by her bed now. "I just like it."
Florence is two weeks into the tour and one week beyond the total, crushing anxiety attack that bit deep just before the first night. "You'd think I'd be used to it by now," she says, "but there's something so shocking about it. My brain just goes, woosh. I just think I can't measure up to what people want from me."
The trigger was the Met Gala she attended in New York, the yearly fashion bash to nominally celebrate the Metropolitan Museum Of Art's new exhibition, but really just a chance for celebrities and supermodels to dress up like fountains or hamburgers. Florence went because she loves Gucci, adores the designer there, and, in a match made in heaven, he had a special Gucci design just for her.
Article continues below advertisement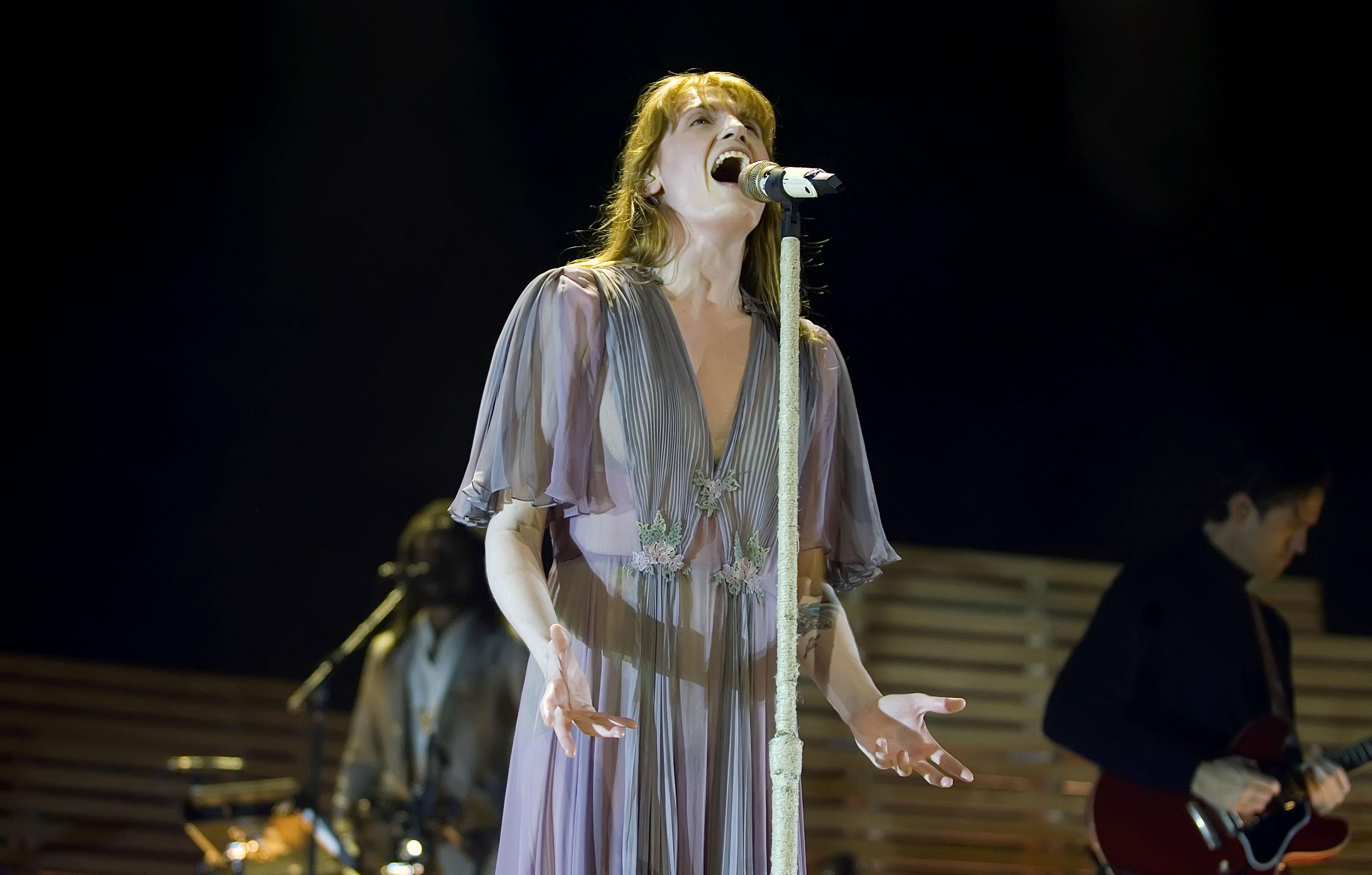 "It's not like I'm not vain," she admits. "I am vain. I love clothes. So if a designer I love invites me to this huge fashion event to put me in an amazing outfit I am, like, 'Yes. Yes!' But my vanity cracks my sanity when I get in that world."
The problem, she says, is that she forgets she's actually a world-renowned pop star who's had Number 1 albums on both sides of the Atlantic. "I have this happy delusion that I am not famous. To protect my sanity, I decided a while ago that I am not a celebrity." The Met Gala disarmed her of that notion pretty swiftly.
Article continues below advertisement
First of all, they put her up in the same five-star hotel that all the other superstars were staying in, so she was penned in by platoons of paparazzi at every turn. Then it deposited her in a situation at the actual Gala where her only attribute was fame and the ability to wear a beautiful dress well. "Performance, making music always seems very safe to me," she elaborates. "Being famous is corrosive and distracting, and very bad for me. I genuinely don't know how some people deal with that every single day."
Perhaps they have a narcissistic personality disorder? She smiles wanly. Some of those famous people are her good friends, after all. "I was a sensitive, dreamy kid and when that intense hijacking by fame happens I feel terribly guilty that I didn't protect that kid enough, I slingshotted her into this world."
For three days, she cried almost constantly. At the first night of the tour in Arizona, she stopped the show in tears to let the crowd know she was struggling. "I was crying onstage, which is cheesy even for me. But I'm so lucky with the fanbase and I think it's to do with the vulnerability of the work. It means I attract quite sensitive people. I found myself saying, 'I know you've come to the High As Hope tour, but I'm fucked. I'm a mess.'"
Article continues below advertisement
She thinks that performing these songs live now pulls back another layer of her shell. She's happy to go with it in the moment, but she's not sure about the long-term effect upon her. "Even in the midst of
a full-blown anxiety attack, I can do the show. There's a level of sensitivity that allows me to perform, but it makes functioning otherwise very hard. I don't have infinite resources, I've come to realise. I feel very sorry for the people who work for me because they're like, 'How the fuck do we get her from A-to-B?'"
She used to fix it with a row of stiff drinks. That would bury it. But Welch hasn't had a drink in five years so now, "I have to really unravel the anxiety. I can't stop crying. I can't dress. I get cyclical negative thinking that gets really dark, that says I shouldn't exist. I go down a hole quite fast."
Article continues below advertisement
Experience has taught her that after the initial collapse, every day slightly improves and she has to wait it out by being kind to herself, not watching TV, not looking at social media – "especially not looking at social media!" – meditating, reading, listening to podcasts. Eventually, she surfaced and now she's feeling good again. She's also feeling more determined about her future. "After our last chat in London, I was like, 'Do I really need to stop for a bit?' But yes, this confirmed it. It's sad because I feel at the peak of my performance, of my connection with the audience. There is something special going on in these shows, the exchange of energy. But my mental health has taken a battering. It used to be that that was a price I was willing to pay. I don't think I am now."
She wants to be able to break cycles that have governed her entire adult life, namely seeking misery as a comfort. She can't do that on a tourbus. "I realise now that I make choices to accentuate and prolong a sense of loneliness. That's something I've done my whole life. I'm choosing this person because I think they'll make me happy, but the reality is that I choose them because they're going to cause me
pain. 'Oh my, I'm so attracted to you. What could it be, what's this magical power that you have? Oh, it's that I'm going to be sad and alone.'"
Where all this comes from is so obvious it's a cliché. It's the first question any counsellor, therapist or psychologist asks: tell me about your family growing up, tell me about mum and dad.
Article continues below advertisement
"I know, it's so easy to pin down," she sighs. "There was a disappearance of my family when I was about 10." Until that moment, Florence had lived a fairly solid, upper-middle class life with her two siblings, her ad executive dad Nick and American art-historian mother Evelyn in a nice house, in a good street, in
South East London. Then, like many baby boomers who'd got married young, her parents met other people and started having relationships with them instead. "As my mum says, they had their teenage years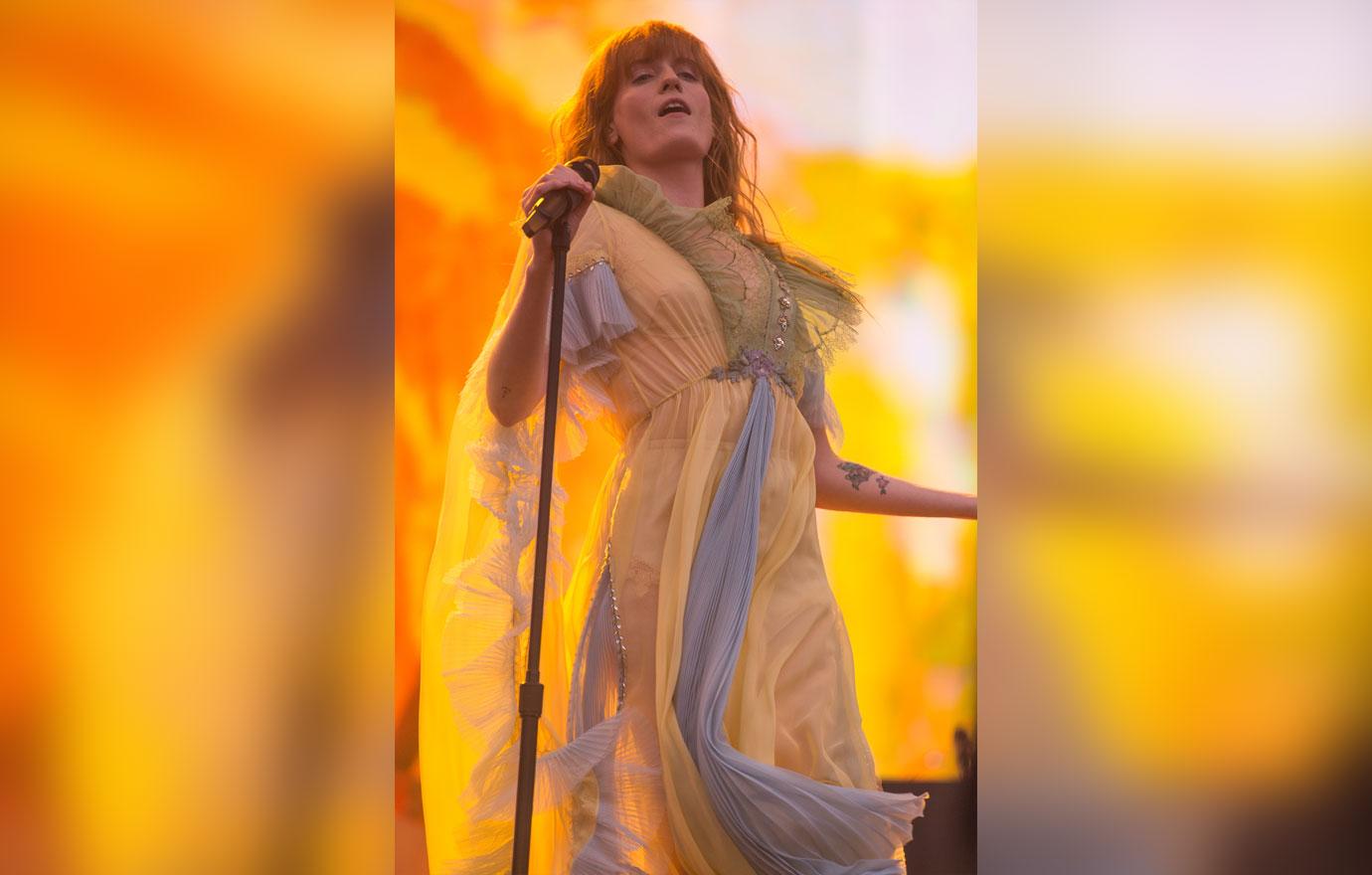 Article continues below advertisement
What this meant, practically, was that a bustling house suddenly felt very empty, because the parents were having their new relationships in other people's houses, to protect their children. "That sudden feeling of an empty house," says Welch, "is something that I come back to in my work consistently. I never seem to escape it. It haunts me. I'm always trying to figure out the answer to that feeling, and if figuring it out will heal it. It's a loss of structure at a key age that means I've been drawn to chaotic things."
This cold-eyed analysis makes a very strong case for therapy. "Well, you think you're so complicated and mysterious and then… 'Oh, it can't just be that, can it? Oh, it is, I see.'" She laughs at herself, at the transparency of us all.
That sense of lonely solitude didn't last for long though. "My family became like The Brady Bunch when we moved in with my stepfather and suddenly there were six kids in the same house. Their mother had died recently, so they were traumatised, we were slightly traumatised and for a while we just concentrated on getting along in quite a tense set-up. That's when I started to disappear into fantasy a bit."
A lot of this, and how it's reflected through her relationships, is what she was trying to unpick on High As Hope. "I always held people up to an imaginary image I'd made for them, and the fantasy lets you down, of course. That is basically what the album was all about."
Article continues below advertisement
During these investigations, Welch decided to talk to her mum. "I said to my mum, 'I'm really tired. I really want to figure it out and have a sustainable relationship. I think I've got abandonment issues.' My mum was, like, [matter-of-factly] 'Yeah makes sense. You were slightly abandoned.'"
She'd never really attempted these direct conversations with her parents before, but now she was getting somewhere. "It can be quite hard in our family, especially with my dad, because, as a defence, we always seem to intellectualise things, make a clever joke, rather than getting to the heart of it. But this time I thought, 'Shit. I've never spoken to my mother about my eating disorder, but I have made this explicit pop song [Hunger] about it, a song that's going to be on the radio, so we should probably talk about it.'"
Florence found herself in deep about all kinds of things with her mother in particular – matters that she'd never really spoken about, including the suicide of her mother's own mother.
Article continues below advertisement
"My grandmother would've been in her 60s when she killed herself, so I would've been 14 and my mother in her late 40s. The act of it was really brutal, she'd struggled with manic depression for a long time, and I'd never really asked my mother how that had affected her, how that had affected the way she felt able to love."
She discovered that the way her mother dealt with her own mother's suicide was to contain herself within her work, to disappear into the world of Renaissance art and, often, to Italy itself. It manifested for Florence as a further abandonment, but one she understands. "I idolised her work ethic, then and now," she admits. "I admired it."
More than that, Florence imitated it, throwing herself so deeply into her work, too, so that she wouldn't have to listen to her own sad voices. But now she hears them clearly, now she's used to them, and now that she knows what they are fundamentally sad about, she doesn't really feel the need to exist that way any more. She can find a new way of working.
The backstage area of a Florence + The Machine show is subtly, but significantly less uptight and officious than most backstage areas. It's more relaxed and communal. The reason is simple: all the direct positions of power in the Florence universe are held by women.
Article continues below advertisement
Her management team is entirely female. Her tour manager is also a woman, her personal assistant is a woman, her UK and US publicists, both of whom are present, are women, her caterers are women, her photographer's a woman, and half her band are women. This shouldn't be remarkable, but in the music business it still is, ridiculously. Its effect can be felt in the gentle manner of the men backstage here, too, at The Governor's Ball, on Randall Island, a strip of land that faces Manhattan and hosts a yearly festival of full-length sets from major names. Even Welch's formidable bodyguard Paddy stands munching on a plate of food with a relaxed, beatific smile on his face. His hard yards will come a little later.
It is 6pm and the sun is still burning through the haze of city smog. Beyond Florence's headliner-only backstage complex, the mood is not so Zen-like as The 1975 play the sunset slot. Groups of muscle-bound men in tiny shorts and Day-Glo paint on their chests prepare for Major Lazer on the second stage by pouring sachets of something-or-other into their beers, and kids flay around the outskirts of the throng clearly having peaked too soon.
Rob Ackroyd, Florence's guitarist, returns to the compound from a recon out front with his girlfriend a little flustered. "Pretty hectic out there," he reports. "We'll fix that dial, don't worry about that."
Article continues below advertisement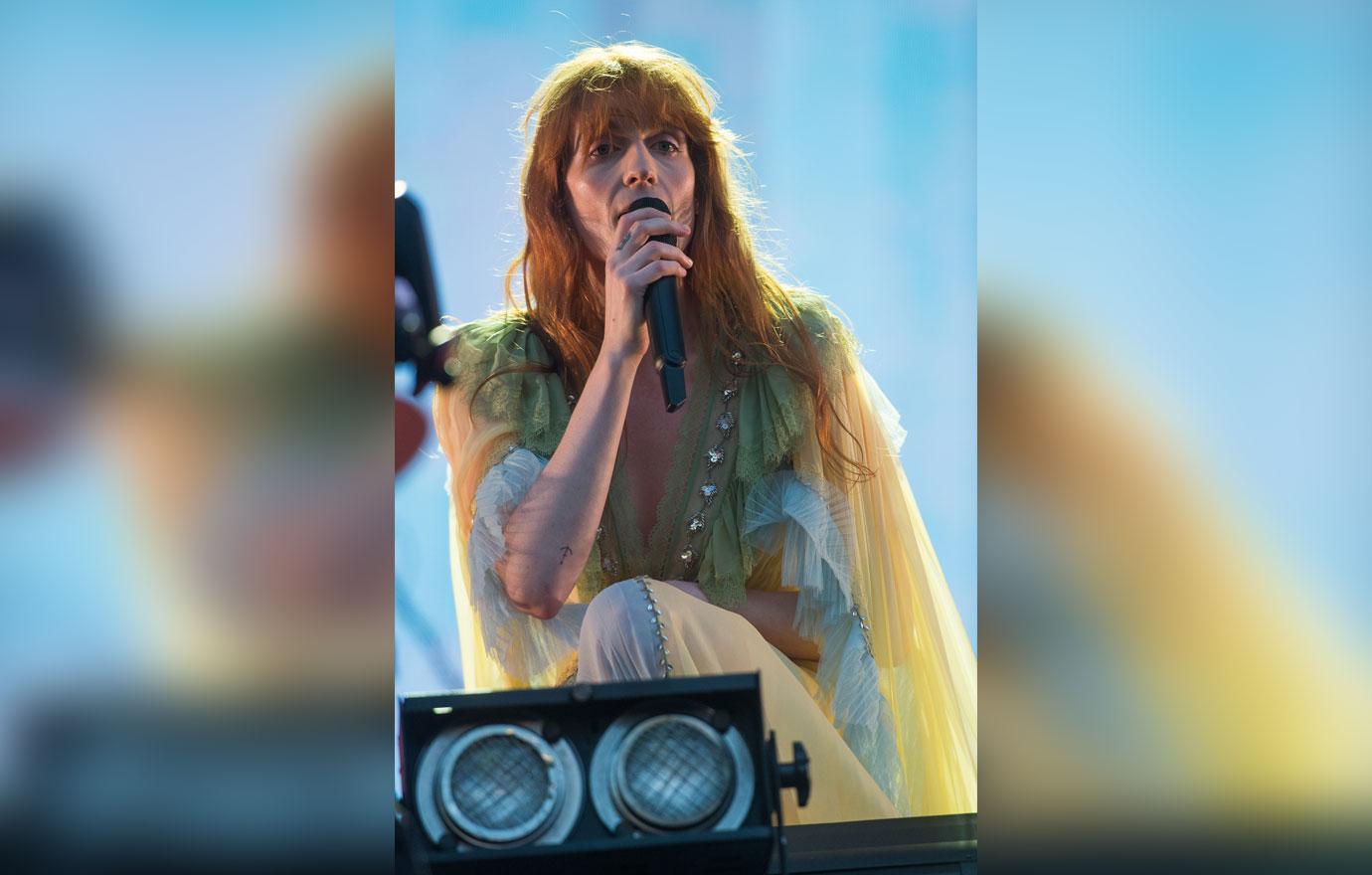 Ackroyd has been with Florence from the very start, predating the debut album, and is a friendly host. He's in a particularly good mood tonight because he gets to sleep in his own bed for a change, having moved to New York a while ago. He's happy, too, that so many people he knows will see the show. "It's become so special," he says, "everyone needs to feel it. There's really something going on at the moment. Sometimes, I just find myself soaking it all in like a fan. I almost forget I'm playing."
Article continues below advertisement
As the band head off into Portakabins to change into their stage-wear, Florence appears from hers in a pair of shorts and a training top and starts energetically dancing to nothing more than the drill of the freeway that passes above our heads, throwing her arms up and leaping heaven-wards. This is her warm-up. "It's the only exercise I do now," she says. "I used to go running, the gym, all that. But I think it was all tied up in the unhealthier aspects of trying to be thin. Once I let go of that, I stopped forcing myself to do anything. I just dance every day and go dance training twice a week, simply because I love it. I let go of everything else."
Just before the band head to the stage, all nine of them gather around Florence on the grass outside her dressing room and join in song, singing June a cappella together, holding hands and swaying as Florence leads them in the "Hold on to each other" refrain. It's a lovely moment that is just for them, and then they are off, walking through the night towards the bright lights…
Article continues below advertisement
What is happening with the Florence + The Machine live show is one of the greatest outpourings of love and emotion that you'll find this close to a beer tent in 2019. The first 10, 15 rows are packed full of young girls and women passionately singing to every word, tears washing down faces – not hysterically, as you might find at the gig of a teen heartthrob, but in some kind of satisfied rapture. Everyone across the site is tuned into Florence Welch and her amazing band, the virtuoso skills of this latest, most sympathetic version of The Machine elevating each song into something approaching hymn-like status for the congregation. The atmosphere is ecstatic. At one point, Welch runs from the stage alongside the safety barriers with security man Paddy in hot pursuit, and right up beyond the central mixing desk, stopping to bless fans with a hand on a head as she whirls by.
"Watch the faces on the screen when she lets go of their heads," shouts her manager, Hannah Giannopoulos, as Florence repeatedly spins away from fans, leaving them beaming in total exhilaration. "My favourite bit of the show."
Afterwards, beneath the twinkly canopy that stands between the backstage cabins, guests and band members munch on takeaway pizza, as Welch high-fives and chats with a large group of her young American cousins and their friends. She wanders over to say hello. Can she really turn away from nights like these?
Article continues below advertisement
"I'm not retiring," she clarifies. "I just need to not tour for a good bit. I'll be back." She considers this. "I feel such a responsibility to the community, I hope they understand I need to take a break from it. But then quite a lot of the letters I receive are, 'Are you OK?!' They are very understanding of the fragility. As a performer, you feel like you have to carry everyone, make sure they're OK, and actually, they want to be there for me. It's so sweet."
The main thing for her is to find a balance that can carry Welch through the rest of her 30s. "As I grow up, I am kind of of the mind that there may be a small part of me that wants to be happy and stable. So taking time away from touring is important, to try some other mediums."
In London, she'd mentioned what a passion she had for musicals growing up, and that she'd been investigating them again recently.
"Well, making music for other things. The little foray I've made into it… it's very encouraging. You know how I'm always trying to tone myself down? You don't have to in a musical. You really don't have to! Every other note can be a long, held note, everything can be a chorus. Turns out to be quite a natural fit."
This doesn't necessarily mean Florence: The Musical, however. "No, oh my God, no. I can't put anyone through that. I said to my friend, 'Oh, I'm studying opera and modern dance,' and he was like, 'Don't make it worse. You're already putting people through enough.'"
Article continues below advertisement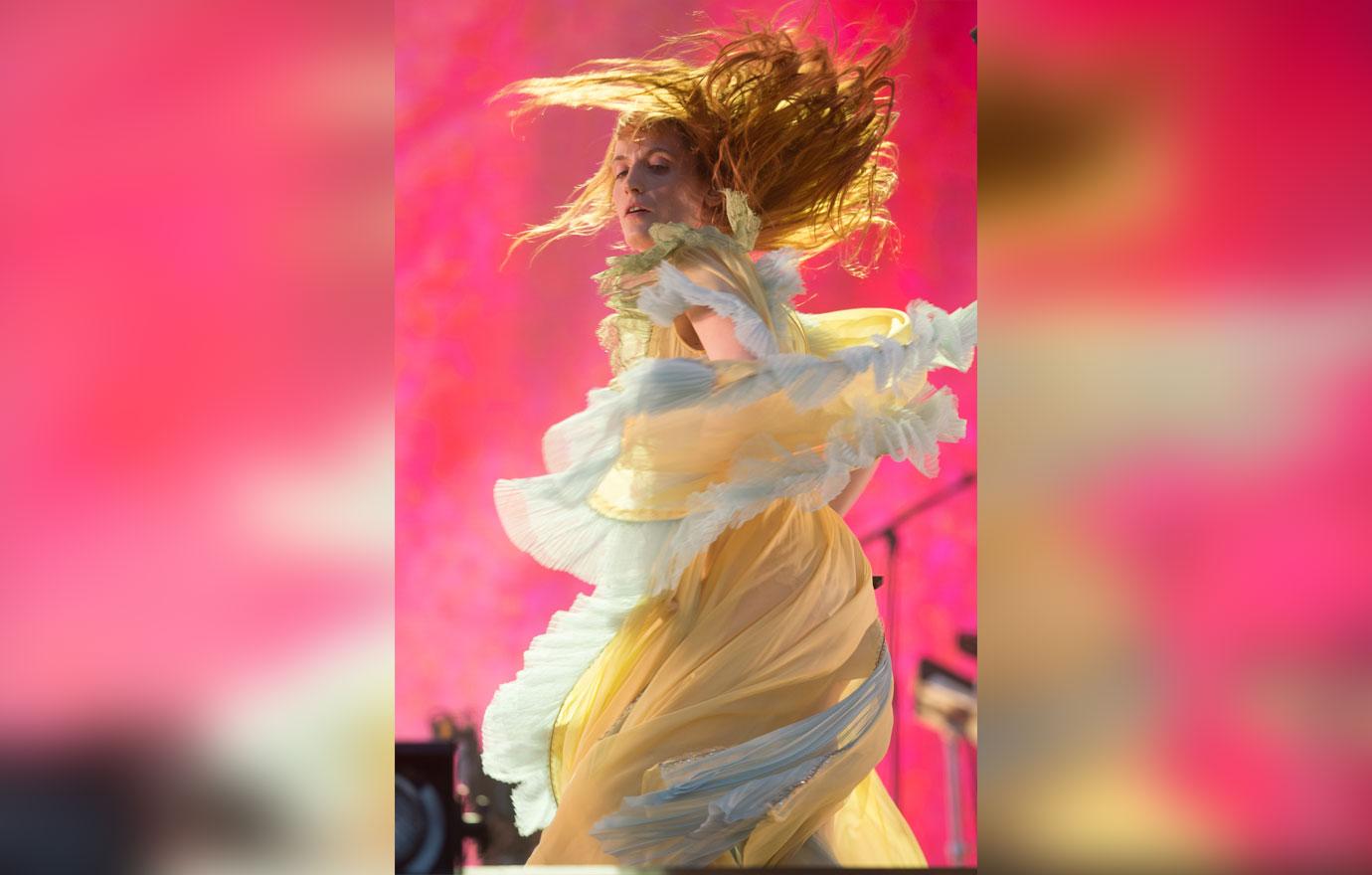 The night continues back in Manhattan, in a bar on the Lower East Side that Rob Ackroyd partly-owns, VNYL. Welch is there before anybody, jumping up to the music in her corner booth, sober but rushing with adrenaline from the performance still.
Soon, she is locked in deep conversation with a glassy-eyed and intense King Princess, the young American singer-songwriter. Welch has the look of a practised royal meeting her subjects, caring, invested, but ultimately calculating internally, "How much longer?" Not much now. Only a few more weeks to go and then it's done.