For a band that has yet to release a proper album (and in fact had yet to even release an EP until last month), Brigitte Calls Me Baby has been on a roll these past 12 months. Shortly after a series of head-turning appearances at last spring's SXSW, the Chicago five-piece has notched U.S. gigs opening for Muse and the Last Dinner Party, as well as sharing the stage with the Strokes and the Yeah Yeah Yeahs at last August's All Points East Festival in London.
While those might seem like some unusually high-profile gigs for such a young band, Brigitte Calls Me Baby has taken an unusual path to festival stages. As a teenager, the band's frontman and songwriter Wes Leavins left high school in Texas to join a production of the Tony-winning musical The Million Dollar Quartet, in which he played a young Elvis Presley. Later decamping to Chicago, he joined forces with bassist Devin Wessels, drummer Jeremy Benshish, and guitarists Trevor Lynch and Jack Fluegel; no sooner had the fledgling group began gigging locally than Graceland once again come calling, when Leavins was recruited to record music for Baz Luhrmann's 2022 film Elvis. While on set, he met Grammy-winning producer Dave Cobb (Jason Isbell, Brandi Carlile), and the two hit it off well enough to secure Brigitte Calls Me Baby an invite to Cobb's Nashville studio.
It isn't hard to spot the lingering aftereffects of playing the King night after night in Leavins' voice — as well as his hairstyle, and his cooly confident onstage demeanor—but Brigitte is much more than just a throwback act. Released by ATO Records in October, the group's first EP, This House Is Made of Corners, takes just as many notes from DFA Records as it does from Sun, and the group is set to release its debut full-length and embark on its first headlining tour in early 2024. Q caught up with Leavins on the morning the EP was released.
Article continues below advertisement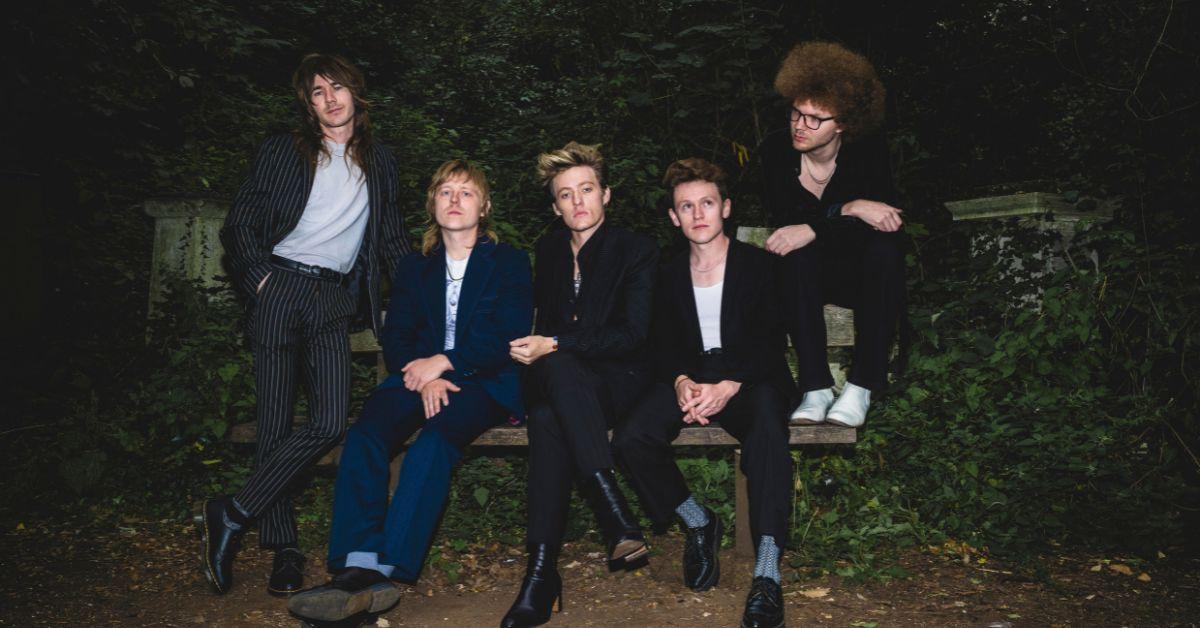 How does it feel to finally have your first record out in the world?
It feels great. We started recording this a year and half ago, so some of the stuff has been finished for that long. We recorded it in Nashville with Dave Cobb, and pretty much what we did there is the way it sounds on the album. There weren't a lot of additions since then, we've just been waiting for the right moment to release it.
How did you first hook up with Dave, and was it intimidating to step into the studio with him, considering his resume?
I met Dave when I was hired as a musician for the Baz Luhrmann Elvis film, and he was producing a lot of that stuff. I got to know him in that world, and sent him some demos and asked if he was interested. He asked for more, I sent more, and pretty soon we realized we had the beginnings of a record and we should make one. As for as it being intimidating, initially I assumed it would be. But he's such a great guy that you get in the room and he makes it feel like you're just hanging out with a friend. There wasn't a lot of time to get freaked out, really. He just made it feel like having fun, which to me is the way making music should be.
Article continues below advertisement
How long were you all in the studio?
Two weeks. We did it all live, and that was maybe the most intimidating part. Dave was adamant about us doing so much of it live, which might not have been the way I would have initially thought to do it. But then when we got into the studio and I realized the merits of doing that, how that is the most organic, raw, natural performance that you'll ever get. And now that's the way I like to work. I wouldn't have been that way before.
What would your instincts have been otherwise?
I probably would have been experimenting, right up until the moment someone said I had to stop. But we did 10 songs in two weeks, which leaves very little time to overthink anything, and I actually really enjoyed that. Probably 75% of the process between starting the record and finishing it is overthinking it. And that's really what I love about Dave: he prevents overthinking.
Article continues below advertisement
What was it like to be out there sharing stages with bands like Muse and the Strokes before you even had a record out? Did it feel like you had to introduce yourselves cold every night?
It's been really cool, actually. Especially All Points East, which was our first time out of the country at all. I remember during our set we suddenly got a bit of rain, and I thought, "well, that's the end of that." We're such a new band, coming to the U.K. and playing this festival, who's gonna stick around in the rain? And everyone largely did. That really meant a lot. I might not have done that if I were watching a new band.
I'm curious about your experience playing Elvis onstage. How did that come about, and how did your experience in musical theater inform what you do in the band?
That was a situation that I really found myself in by chance. I was in high school, and I had just made a decision to quit high school, because I had this passion for music that I felt was being distracted by the requirements of being a student. But then suddenly I needed money. [Laughs.] So thankfully that happened, and it really did feel like it fell out of the sky. At first I was a little averse to it, because I was a musician and not an actor. But it was an opportunity to make some money and put some money away to make records, and at first that was the extent of my expectations. But when you're onstage every day, you learn a lot. You learn how to be a person onstage who isn't boring. It's a very different crowd [than a rock show], I'll say that. But I learned a lot about how to work a stage. I guess I had to have a boot camp, because I hadn't really been onstage at all before that.
Speaking of Elvis, a lot of the press you guys have gotten so far tends to foreground your influences. Whether that's Roy Orbison or the Smiths or the Killers or INXS, there's almost this game of spot-the-influence going on. Does that bother you?
Not really, because right now the music the public has access to is limited. We've got material for two records pretty much completed, but until today, we only had two songs out. And early on in any band's career you get a lot of that. You'll get a strange comparison here and there, and sometimes it'll be a band that I've never even heard of. But it's all flattering to me. Because it just means that people are finding similarities between us and their favorite bands.
Do you think much about how your music makes sense in a 2023 context? "Here's what's on the radio, and here's what we sound like, where do we fit in?"
To me, the kind of music you make is something that you have very little say over: you are what you are. And maybe there are people who try to add or subtract things to be more commercially viable. But to me there's never been an attempt to be in or out of time. I think that's a useless endeavor for anyone. Everything is cyclical, and if we were to focus on what's popular now, within five years that probably won't be the case. So I just do what I like, and the band does what they like, and collectively that makes up Brigitte Calls Me Baby.