The great British philosopher David St. Hubbins once opined, "It's such a fine line between stupid and clever," and while it's reasonable for music fans to have divergent opinions as to which side of the line The Darkness sits upon, the attendees of the closing night of the band's Permission to Land...Again tour know the truth...or do they?
That's a question that couldn't possibly be answered in any definitive fashion without asking each individual in attendance, and even then, it's hard to know for sure if the average American concertgoer truly appreciates the distinction anyway, because they don't really care if The Darkness is emulating their heroes or taking the piss or playing it completely straight.
At the end of the evening, when all's said and done, the more important questions are these:
1. Did they rock?
2. Did they put on a great show?
3. Did we have a good time?
In the case of The Darkness, the answer to all three of these questions is an unqualified "F***, YEAH!" Which is only as it should be.
Article continues below advertisement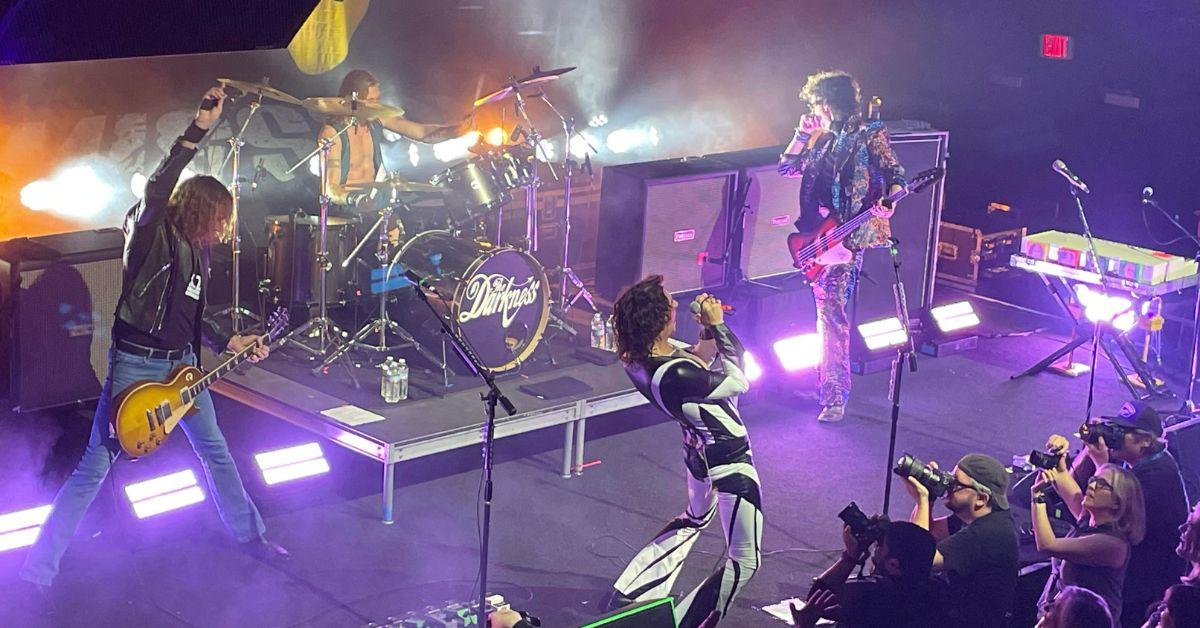 As of this writing, The Darkness have released seven studio albums, but insofar as their American success goes, they might as well have only released one: 2003's Permission to Land, which took them into the top 40 of the Billboard 200 and sent at least one single - "I Believe in a Thing Called Love" - into the magazine's "Bubbling Under" list. In case you're unfamiliar, this means that the song failed to crack the Hot 100, but only just. Still, it's hard to say that it really qualifies as a hit...and yet that's as close as The Darkness has ever come to achieving one in the States.
Article continues below advertisement
And yet Permission to Land made them enough of a known quantity to a certain portion of the population that they managed to take their next two albums – One Way Ticket to Hell...and Back and Hot Cakes – into the upper half of the Billboard 200, and while the next two albums – Last of Our Kind and Pinewood Smile – only straggled into the bottom half of that chart, hey, at least they made it on there, which is a damned sight more than a lot of British bands can say.
Fast-forward to 2023, with The Darkness issuing an extremely expanded 20th anniversary edition of Permission to Land, this time entitled – what else? - Permission to Land...Again, a release which the band decided to tour behind...and that pretty much brings us up to the present, with Justin Hawkins, Dan Hawkins, Frankie Poullain, and Rufus Taylor rocking their way through America and bringing their journey to a close in the nation's capitol.
Article continues below advertisement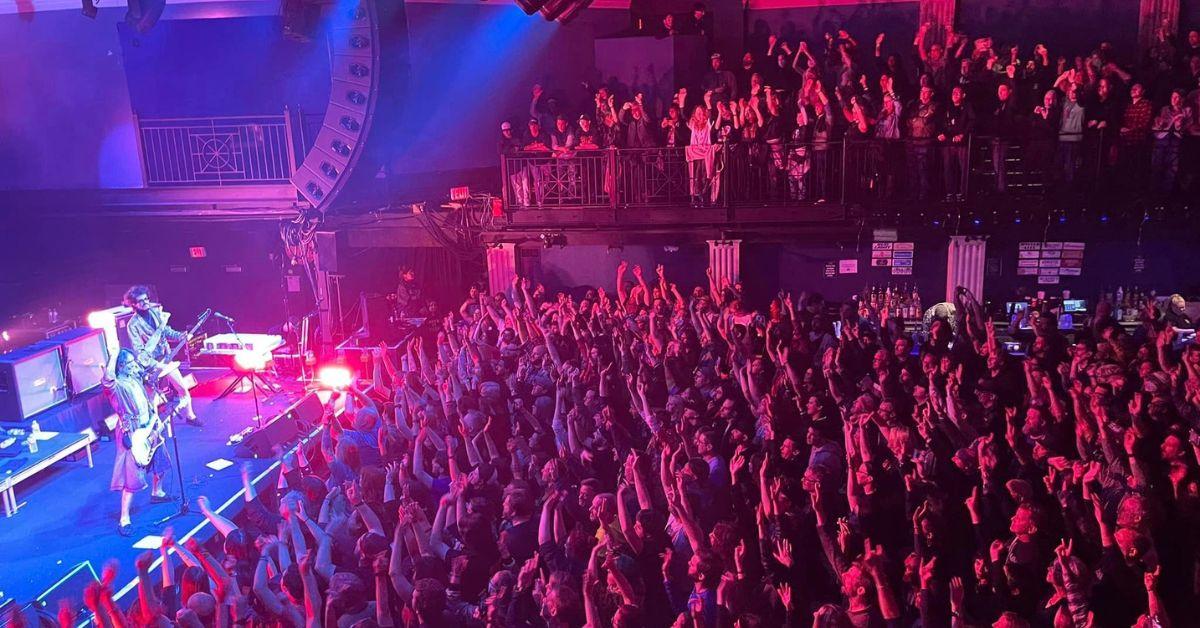 The band took the stage to deafening screams, which was only to be expected, and they thanked the audience by launching into "Black Shuck," which – not coincidentally – is also the opening track on Permission to Land. Justin informed the audience of that which they surely already knew, which was that the band would be performing the album in its entirety, but what may have surprised them was that they didn't play it in consecutive order. They did, however, promptly follow that opener with the next two songs on the album: "Get Your Hands Off My Woman" and "Growing On Me."
From there, however, they decided to dip into a few songs which the casual fan might not have known, since they were originally banished to the Japanese deluxe edition of the album: "The Best of Me" and "Makin' Out." A few songs later, Justin took to the keyboard to perform the B-side "Curse of the Tollund Man," after which a loud-mouthed gentleman in the balcony proved himself loud enough to be heard by Justin when he demanded to know what album the song was from, at which point Justin explained, "It wasn't on any of the albums, because it was f***ing sh*te."
And yet it was good enough to find its way into the set. Go figure.
Article continues below advertisement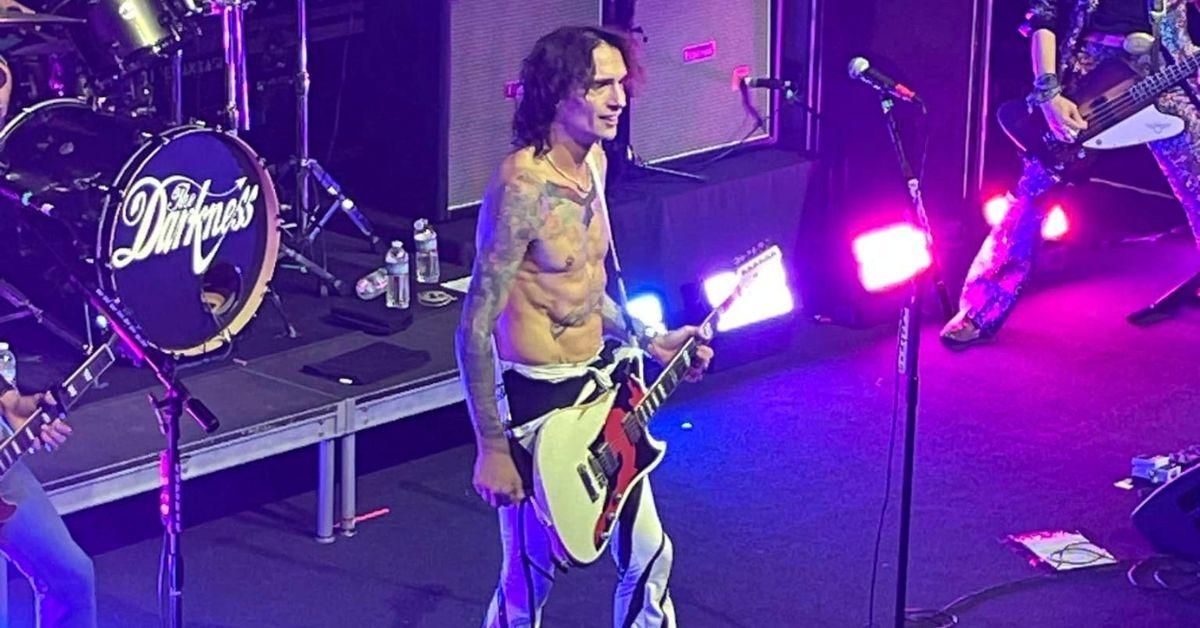 Throughout the night, Justin kept the audience entertained not only with his onstage antics as a rocker but also as a fun frontman, chatting with the crowd every few songs and having a good laugh with a few of the folks up front. At one point, he called out a gentleman for wearing bootleg Darkness merchandise and demanded that he take the shirt off immediately, after which Justin himself put on the shirt and wore it throughout the next song before returning it to its original owner.
A bit later, he took a moment to indulge a possibly-intoxicated audience member who wanted to tell a quick story, and although Justin sarcastically indicated that there were precious few things he should do less than what he was about to do, and yet he did it anyway, and it ended with the audience cheering the moment.
Article continues below advertisement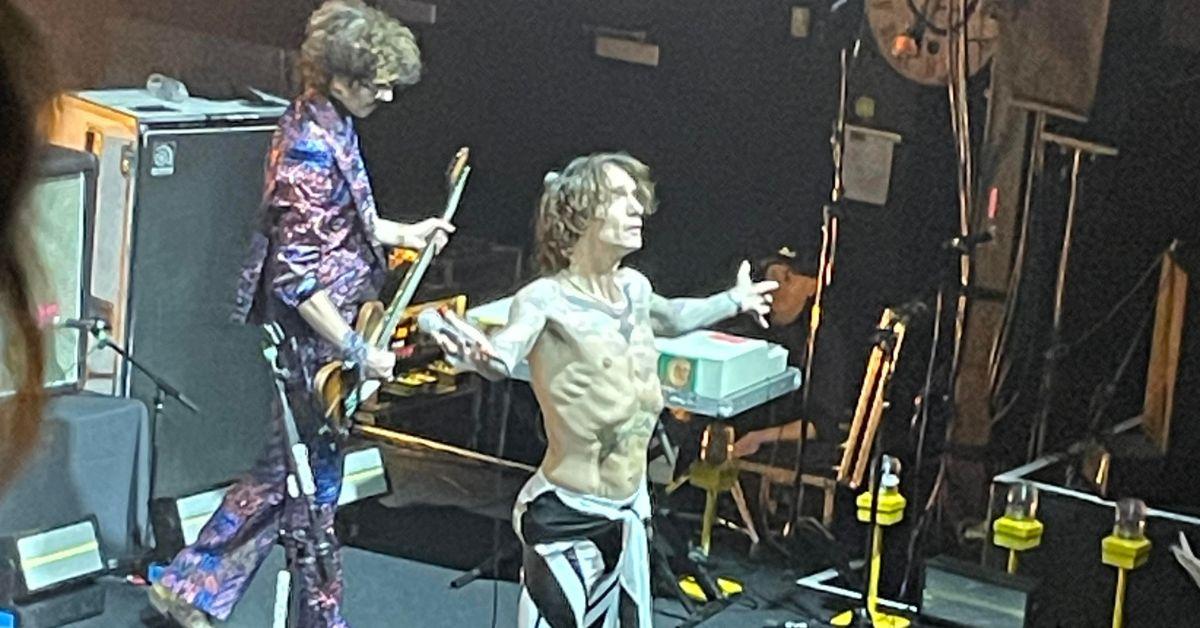 The Darkness consistently proved that there's no song in their repertoire that they can't end with Justin jumping into the air, and it was precisely what the performance needed. They indulged every possible rock cliché, and the audience ate it up at every turn. After closing the set proper by bringing openers Paris Monster onstage to join them for "I Believe in a Thing Called Love," the band left the stage, after which they returned wearing pajamas and robes to perform the ballad "I Love You 5 Times" before closing out the whole thing with "Love on the Rocks with No Ice."
Before departing, Justin Hawkins assured the audience confidently that The Darkness would be back to play the 9:30 Club another day. Given that he'd just spent the previous two hours proving his gift of rock and roll bravado, we can only hope that that wasn't all it was; The Darkness can clearly rock just as hard now as they could 20 years ago, and it'd be a shame if they didn't keep at it for another 20 years, perhaps more.
Article continues below advertisement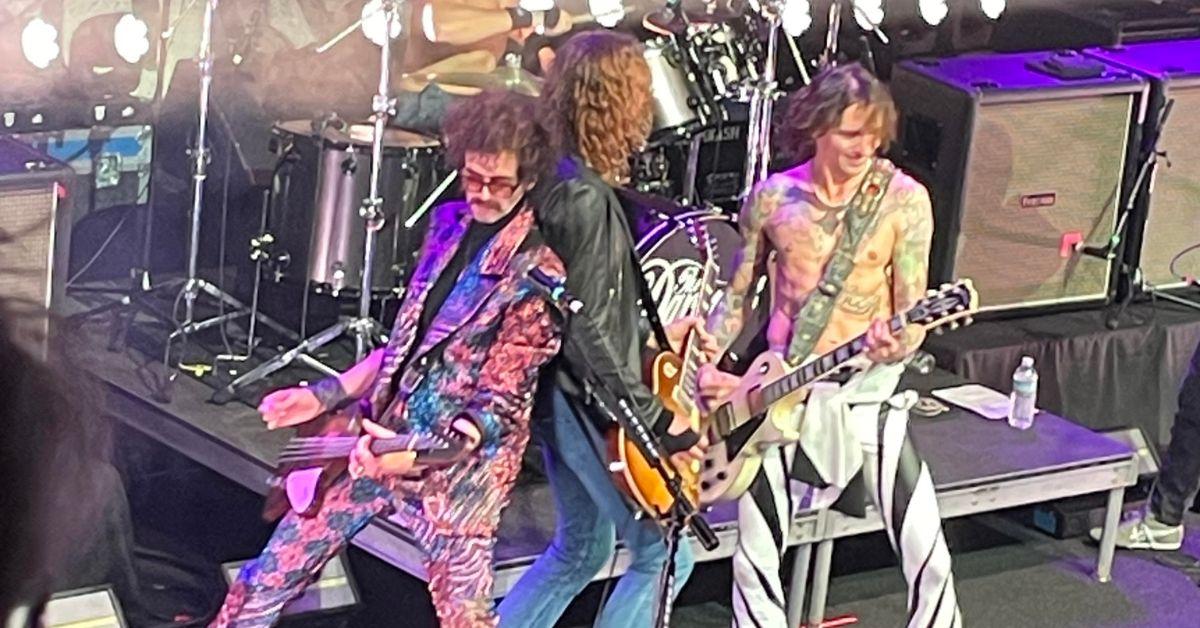 SET LIST:
Black Shuck

Get Your Hands Off My Woman

Growing on Me

The Best of Me

Makin' Out

Givin' Up

Love Is Only a Feeling

Curse of the Tollund Man

Stuck in a Rut

How Dare You Call This Love?

Street Spirit (Fade Out) (Radiohead cover)

Holding My Own

Friday Night

I Believe in a Thing Called Love (with Paris Monster)
Encore:
I Love You 5 Times

Love on the Rocks With No Ice