After four decades of relentless touring and recording, iconic SoCal skate punk band NOFX are hanging up their guitars for good.
The group will celebrate its legacy with a worldwide tour that stops in Australia, Europe, and North America. The months-long trek will end with a three night stint at Berth 46 in the band's hometown of Los Angeles on Oct. 4, 5 and 6.
Article continues below advertisement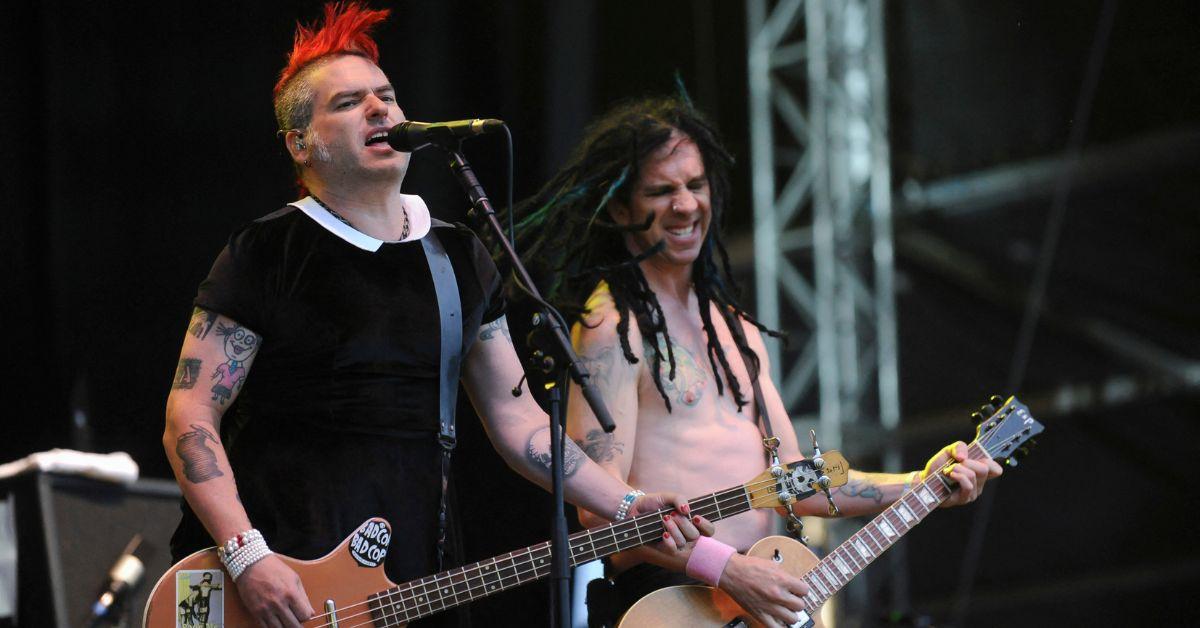 "It's where we started, it's where we'll end," frontman Fat Mike said on Instagram when some of the tour dates were first announced in September 2022. Later that year, the singer told Louder this is truly the last chance fans will have to see NOFX live. "I do know that this is our final tour," he said. "I would never do it for financial reasons because I'm fine. And I don't want to just half-ass it. It's done."
The frontman, real name Mike Burkett, started the band in 1983 with guitarist Eric Melvin and drummer Erik Sandin. The group hit its commercial stride after multi-instrumentalist Aaron Abeyta joined in 1991. NOFX's breakthrough 1994 album Punk in Drublic eventually went gold in the U.S. and Canada. Their 2003 release The War on Errorism made it to the No. 1 spot on Billboard's US Independent albums chart.
NOFX played a pivotal role in popularizing skate punk, which had a big influence on the subsequent pop punk explosion of the 1990s and early 2000s. The band was known for its raw but poppy tunes and stage banter that fused an adolescent sense of humor with searing political commentary.
Article continues below advertisement
A full list of the tour dates with links to buy tickets is available on the website for Fat Wreck Chords, a label owned by Fat Mike and his wife Erin Burkett. The frontman also helped create the Punk Rock Museum, which opened in Las Vegas earlier this year.
NOFX Final Tour Dates:
Jan 20 and 21 – Sydney, Australia @ The Hordern Pavillion
Jan 23 and 24 – Brisbane, Australia @ The Fortitude Music Hall
Jan 26 and 27 – West Melbourne, Australia @ Festival Hall
Apr 6 – Fort Worth, Texas @ Panther Island Pavillion
Apr 13 – Salt Lake City, Utah @ Pioneer Park
May 11 and 12 – Sesto San Giovanni, Italy @ Carroponte
May 14 – Madrid, Spain @ Wizink Center
May 16 – Chambery, France @ La Phare
May 18 and 19 – Eindhoven, Netherlands @ Ketelhuisplein
May 21 – Copenhagen, Denmark @ Grey Hall
May 23 – Hamburg, Germany @ Docks
May 25 – Hanover, Germany @ Faust Open Air
May 30 – Ljubljana, Slovenia @ Media Center
Jun 1 – Saarbrucken, Germany @ Open Air em E-Werk
Jun 4 and 5 – Vienna, Austria @ Arena Open Air
Jun 8 and 9 – Berline, Germany @ Zitadelle Spandua
Jun 29 – Portland, Oregon @ Waterfront Park
July 20 and 21 – Denver, Colorado @ The Stockyards
Aug 10 and 11 – Edmonton, Alberta @ Fan Park
Aug 24 and 25 – Montreal, Quebec @ Parc Olympique
Aug 31 and Sep 1 – Brockton, Massachusetts @ Campanelli Stadium
Oct 4, 5 and 6 – Los Angeles, California @ Berth 46