The 25th anniversary of R.E.M.'s Up is being re-issued and expanded.
Article continues below advertisement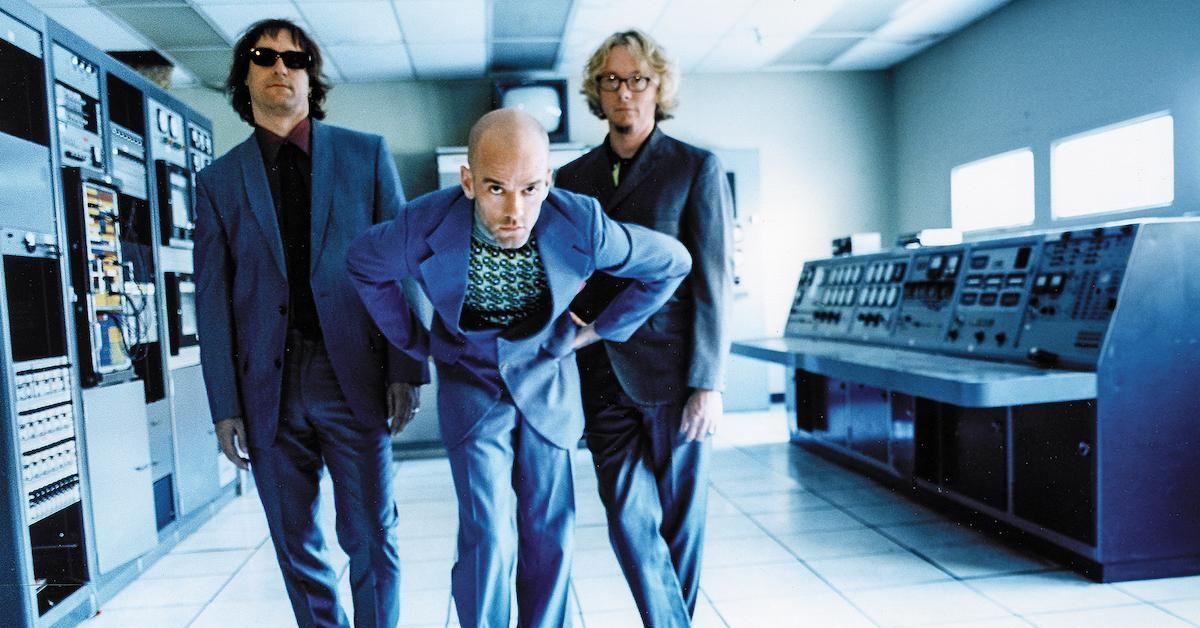 R.E.M. will release a 25th-anniversary re-issue of Up, their 1998 album that was the first without original drummer Bill Berry. In addition to the 14-song tracks garnered from the initial launch, there will be an 11-song set recorded in 1999 at the Palace Theater in Los Angeles for the TV series Party of Five, and a six-song video performance titled Uptake from a studio session in London.
The announcement of the Party of Five inclusion is notable in the context of the times. Performing their single "At My Most Beautiful," the band's performance was integrated into the show's scripted storyline. The band also used this gig as a rehearsal for their then-upcoming tour. "Who would have thought we'd ever do stuff like this?" Mike Mills said at the time to MTV News. "It's goofy stuff, but a lot of people in our office watch [Party of Five]. It's a good show and it's a chance for us to play a whole song live on TV."
Article continues below advertisement
The departure of Berry was a devastating blow to the unit at the time. The drummer had suffered a ruptured brain aneurysm on stage in 1995 and although he recovered and rejoined, he ultimately left the band in October 1997. The band reluctantly carried on as a three-piece, first with sidemen Ken Stringfellow and Scott McCaughey, and then Joey Waronker and Bill Rieflin (who passed in 2020 from cancer) as live drummers for the next decade.
Article continues below advertisement
The reissue comes in a 2xCD/1xBlu-ray format featuring the six-song session in a London studio, as well as the music videos. That edition also includes a 32-page book with music journalist Josh Modell's essay based on new interviews with the band. The remastered album is also coming out in vinyl and 2xCD formats, with the Party of Five live album included on the latter.
Up 25th Anniversary Tracklist
Airportman
Lotus
Suspicion
Hope
At My Most Beautiful
The Apologist
Sad Professor
You're in the Air
Walk Unafraid
Why Not Smile
Daysleeper (Remastered 2023)
Diminished
Parakeet
Falls to Climb
Party of Five Tracklist
Introduction (Live at the Palace / 1999)
What's the Frequency, Kenneth? (Live at the Palace / 1999)
Lotus (Live at the Palace / 1999)
Daysleeper (Live at the Palace / 1999)
Country Feedback (Live at the Palace / 1999)
Walk Unafraid (Live at the Palace / 1999)
Losing My Religion (Live at the Palace / 1999)
Parakeet (Live at the Palace / 1999)
The Apologist (Live at the Palace / 1999)
It's the End of the World as We Know It (And I Feel Fine) (Live at the Palace / 1999)
I'm Not Over You (Live at the Palace / 1999)
Man on the Moon (Live at the Palace / 1999)