Celebrating the albums' 50th anniversaries, the latest issues see the tracks remastered and include bonus material not available on the LPs' original 1973 releases across multiple formats.
Both collections have been expanded and are now mixed in stereo and Dolby Atmos. New 4-CD and 180-gram 6-LP vinyl collections pair 'Red' and 'Blue' in slipcased sets.
Article continues below advertisement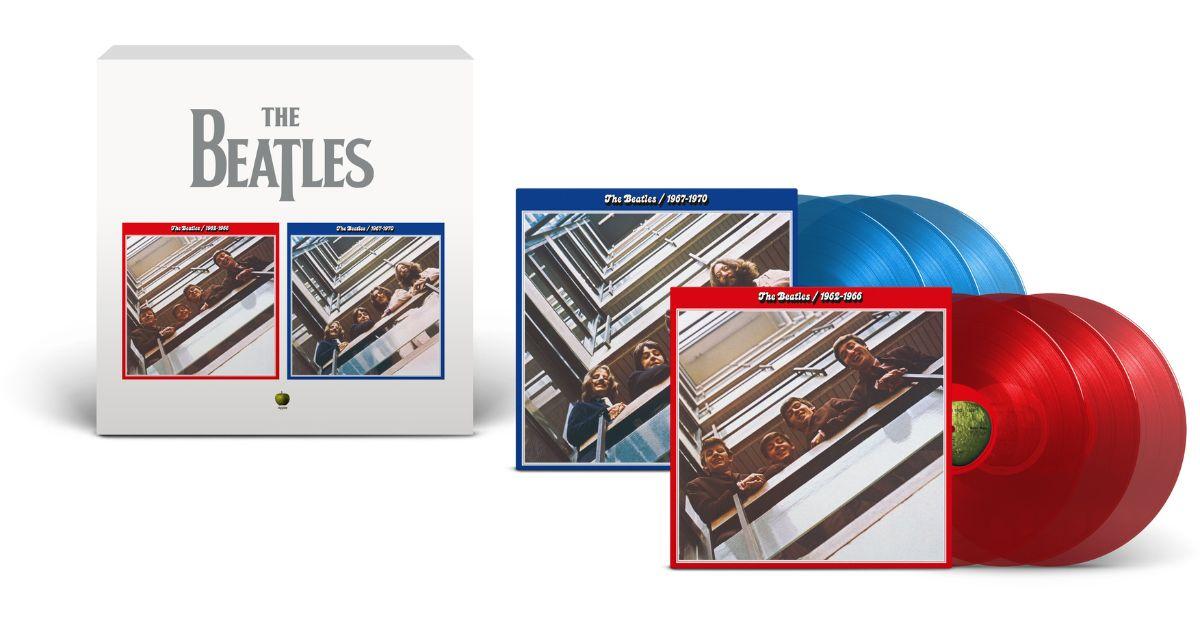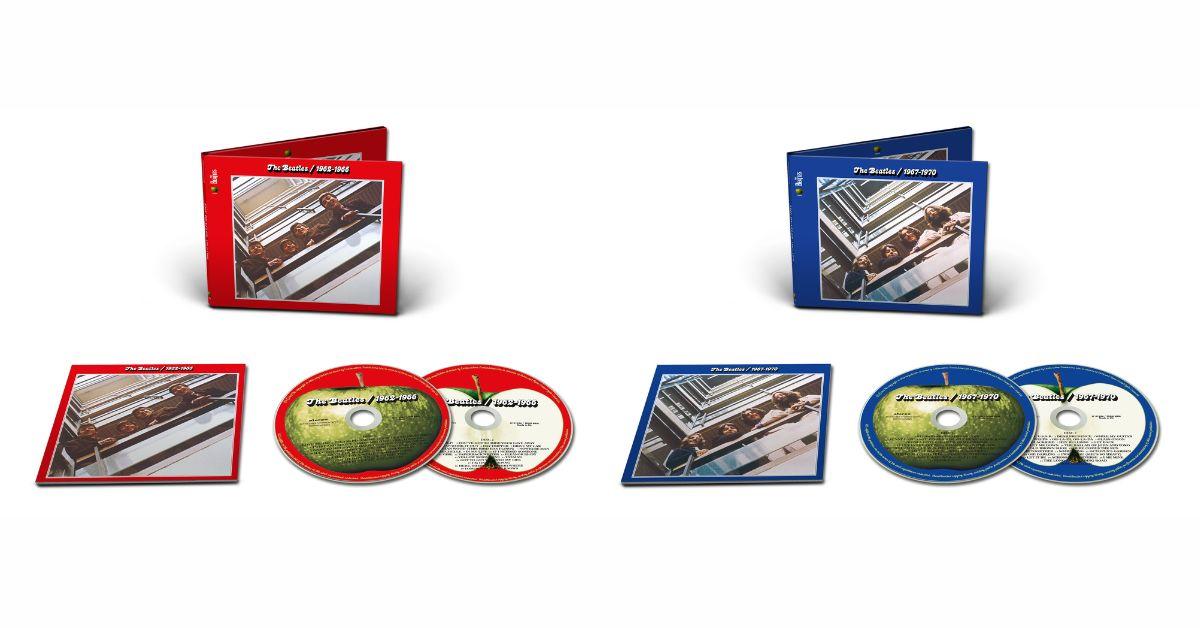 Article continues below advertisement
The UK single version of "Love Me Do" kicks off 1962-1966 (2023 Edition) and "Now And Then" concludes 1967-1970 (2023 Edition) to complete the career-spanning collections.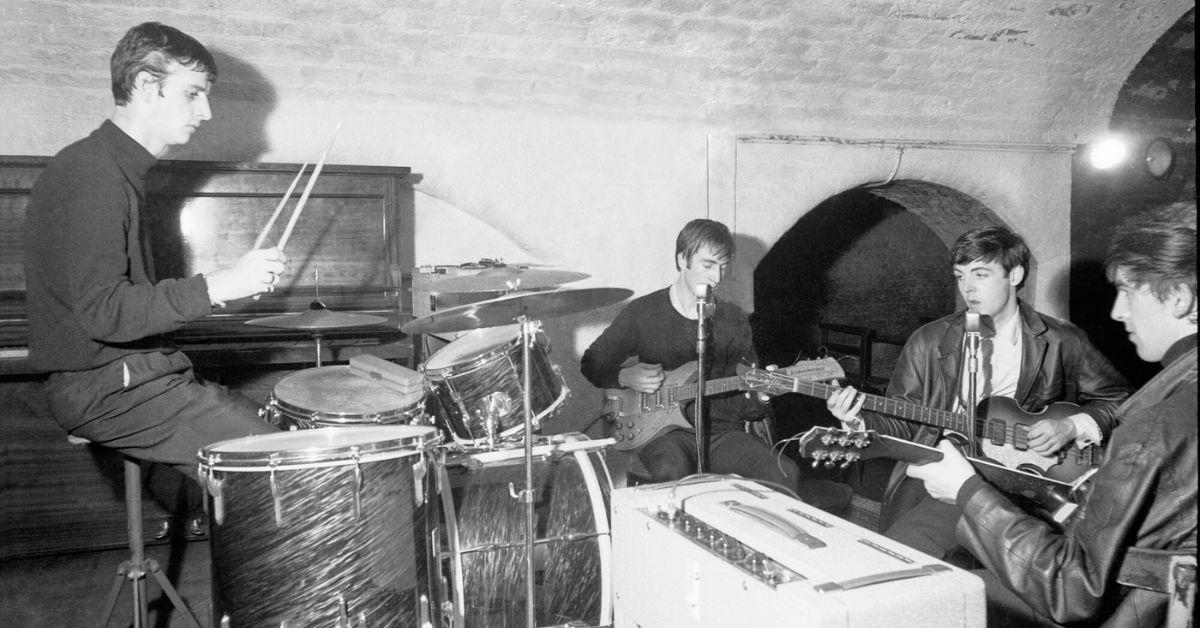 Article continues below advertisement
1962-1966 tracklist:
* = newly added track
1: Love Me Do (2023 Mix)
2: Please Please Me (2023 Mix)
3: I Saw Her Standing There (2023 Mix) *
4: Twist And Shout (2023 Mix) *
5: From Me To You (2023 Mix)
6: She Loves You (2023 Mix)
7: I Want To Hold Your Hand (2023 Mix)
8: This Boy (2023 Mix) *
9: All My Loving (2023 Mix)
10: Roll Over Beethoven (2023 Mix) *
11: You Really Got A Hold On Me (2023 Mix) *
12: Can't Buy Me Love (2023 Mix)
13: You Can't Do That (2023 Mix) *
14: A Hard Day's Night (2023 Mix)
15: And I Love Her (2023 Mix)
16: Eight Days A Week (2023 Mix)
17: I Feel Fine (2023 Mix)
18: Ticket To Ride (2023 Mix)
19: Yesterday (2023 Mix)
20: Help! (2023 Mix)
21: You've Got To Hide Your Love Away (2023 Mix)
22: We Can Work It Out (2023 Mix)
23: Day Tripper (2023 Mix)
24: Drive My Car (2023 Mix)
25 Norwegian Wood (This Bird Has Flown) (2023 Mix)
26: Nowhere Man (2023 Mix)
27: Michelle (2023 Mix)
28: In My Life (2023 Mix)
29: If I Needed Someone (2023 Mix) *
30: Girl (2023 Mix)
31: Paperback Writer (2022 Mix)
32: Eleanor Rigby (2022 Mix)
33: Yellow Submarine (2022 Mix)
34: Taxman (2022 Mix) *
35: Got To Get You Into My Life (2022 Mix) *
36: I'm Only Sleeping (2022 Mix) *
37: Here, There And Everywhere (2022 Mix) *
38: Tomorrow Never Knows (2022 Mix) *
1967-1970 tracklist:
* = newly added track
1: Strawberry Fields Forever (2015 Stereo Mix / 2023 Dolby Atmos Mix)
2: Penny Lane (2017 Mix)
3: Sgt. Pepper's Lonely Hearts Club Band (2017 Mix)
4: With A Little Help From My Friends (2017 Mix)
5: Lucy In The Sky With Diamonds (2017 Mix)
6: Within You Without You (2017 Mix) *
7: A Day In The Life (2017 Mix)
8: All You Need Is Love (2015 Stereo Mix / 2023 Dolby Atmos Mix)
9: I Am The Walrus (2023 Mix)
10: Hello, Goodbye (2015 Stereo Mix / 2023 Dolby Atmos Mix)
11: The Fool On The Hill (2023 Mix)
12: Magical Mystery Tour (2023 Mix)
13: Lady Madonna (2015 Stereo Mix / 2023 Dolby Atmos Mix)
14: Hey Jude (2015 Stereo Mix / 2023 Dolby Atmos Mix)
15: Back In The U.S.S.R. (2018 Mix)
16: Dear Prudence (2018 Mix) *
17: While My Guitar Gently Weeps (2018 Mix)
18: Ob-La-Di, Ob-La-Da (2018 Mix)
19: Glass Onion (2018 Mix) *
20: Blackbird (2018 Mix) *
21: Hey Bulldog (2023 Mix) *
22: Get Back (2015 Stereo Mix / 2023 Dolby Atmos Mix)
23: Don't Let Me Down (2021 Mix)
24: The Ballad Of John And Yoko (2015 Stereo Mix / 2023 Dolby Atmos Mix)
25: Old Brown Shoe (2023 Mix)
26: Here Comes The Sun (2019 Mix)
27: Come Together (2019 Mix)
28: Something (2019 Mix)
29: Octopus's Garden (2019 Mix)
30: Oh! Darling (2019 Mix) *
31: I Want You (She's So Heavy) (2019 Mix) *
32: Let It Be (2021 Mix)
33: Across The Universe (2021 Mix)
34: I Me Mine (2021 Mix) *
35: The Long And Winding Road (2021 Mix)
36: Now And Then *