When it comes to live albums, there's one that stands head and shoulders above them all, no matter how you may personally feel about it, and that's Frampton Comes Alive. It's fair to say that the joke about the album in Wayne's World 2 - "If you lived in the suburbs you were issued it; it came in the mail with samples of Tide" - is far closer to reality than you might believe if you didn't come of age in the '70s. Seriously, it's sold 20 million copies worldwide as of this point.
So why then, you might reasonably ask, is Peter Frampton bothering to release a new live album - At Royal Albert Hall - in 2023?
As it happens, Frampton has an answer for that, much as he had answers for the other questions Q had for him when he made himself available for a chat recently. Join us as we get an update on the current state of his health as well as some insight into his work with David Bowie, his predominantly uncredited appearances on George Harrison's All Things Must Pass, his contributions to Dolly Parton's new album, and his self-penned contribution to his guest spot on The Simpsons.
Article continues below advertisement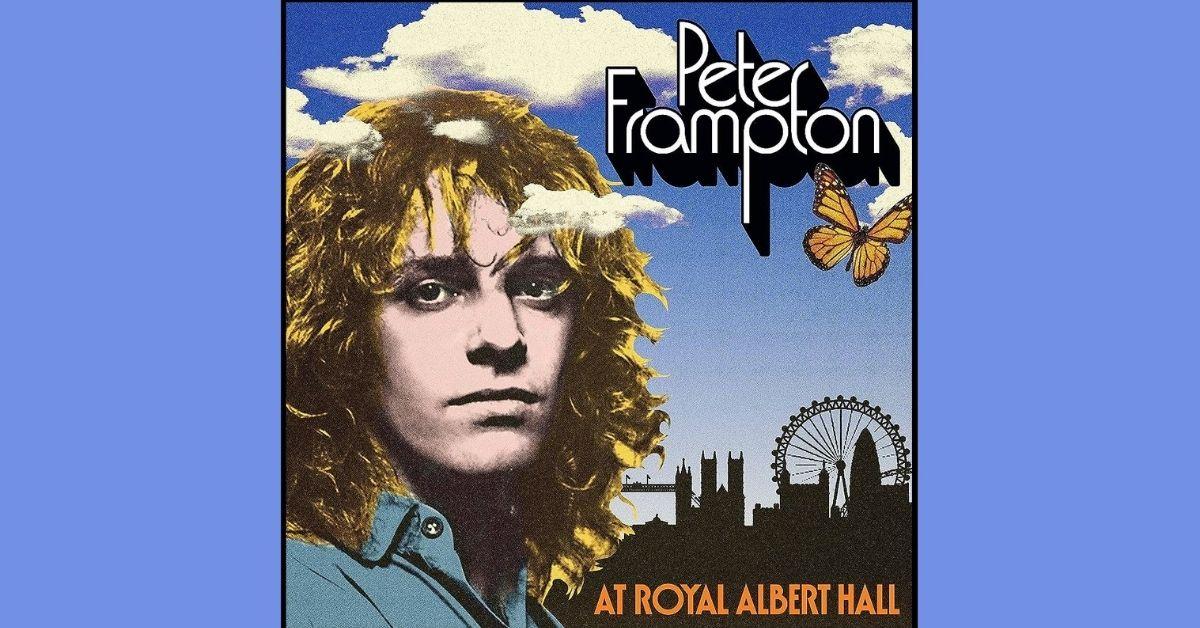 Are you asked "how are you feeling these days" enough to have a stock answer at the ready?
[Laughs.] I mean, mentally, I'm always the optimist. We all have our moments, but in general, I'm "the cup is half full" all the time. Whether I'm thinking about my disease or the world situation or whatever, I'm always positive and hopeful. Yes, the reality of the situation is not great, obviously, and there will be a time when I won't be able to adapt my playing anymore. I just won't be able to. So I know the endgame, as it were, as far as that goes. But I'm just living in the moment and treating every day as it comes and trying to play as much guitar as I can. The more I play... That's why I said, "Can we go out again in November?"
Right, I got that press release with the additional tour dates. That's fantastic that you're able to do that.
Yeah, the more I play, the longer my fingers are gonna work, because there's nothing like the workout your fingers get on a live show. Because you can practice all you want at home, five hours a day, and, yes, it's gonna help a lot. I mean, I don't do it five hours a day... [Laughs.] But, basically, you can rehearse and rehearse and rehearse, and everything sounds great, and then you get on stage in front of an audience, and you're, like, "Oh, wow, we need a few gigs..." [Laughs.] It's a whole different ballgame. But I enjoy it so much, including the getting there and the whole process of actually doing the touring and everything. But they don't pay us for the 21.5 hours we're not onstage, they pay us for the other. And the most enjoyable part is that 2.5 hours onstage.
As far as the Royal Albert Hall show, as a PBS subscriber, I was able to actually watch the video of the performance as well. It was a great show.
Oh, thank you so much! Because of COVID shutting us down in March 2020... I was on holiday with my girlfriend in the sun, and we flew back on March 9, and there was a guy sitting in front of us on the plane with a mask on. And we went, "I wonder what he's got!" [Laughs.] And then when I got home, obviously, within 24 or 36 hours or whatever it was, we were all shut down. And that was the last possible time that I would've wanted to travel for awhile. So our May tour of Europe got canceled, like everybody's, and it was very disappointing.
Now, I'm very lucky that this disease I've got, it's the slowest moving in history of this disease, but when someone said to me, "Are you gonna go out next year?" I said, "I'd love to go out next year, but I cannot give you a 'yes' or 'no' right now." And it's very difficult to book a tour when you don't know how this is going to progress. I mean, my team did such a great job setting up this tour. In January I said, "Can I start touring in June?" And they said, "June 2024, right?" I said, "No, I mean, this June!" They said, "Oh, my God! Let's see what we can get..." So they went through hell or high water to get it set up, and all the promoters were so great. But, anyway, that's my quandry: everybody says, "Come here, come play here!" And I'd love to! [Laughs.] And let's hope I can! That's all I can say.
Article continues below advertisement
I was trying to confirm this online before hopping on the phone with you, but was that show at the Royal Albert Hall really the first time you'd ever played there?
I'd played there, but not as a headliner. I'd accompanied others. I played with Bill Wyman's Rhythm Kings, a night when Mark Knopfler sat in. So I'd done that. But that's why it was so important. I said to the team the first time around, "If we're able to do a European tour, I've got to play the Albert Hall, because if I'm basically going to say goodbye, I want to do it at the Albert Hall. There's no other way." You know, it's just so historic and... I don't know, it rolls off the tongue so nicely. [In a crisp voice.] "I'm playing at the Royal Albert Hall!"
Very posh. Now, I have to ask: when it comes to doing live albums, do you ever hesitate about doing another one? Just because, y'know, you kind of defined the genre the first time you released one.
Well, yes, absolutely, I do. But this is really just... The way I think of this album, I'm not trying to go for career reincarnation. That won't happen. All I'm doing now is historical concerts. And, yes, they might have some of the same numbers on them, but it's a different time. This is a different band from the last live thing we did. They're just, like, historic archives of where we are at a certain time.
More of a commemoration.
Exactly! And this was a commemoration of the fact that I did manage to finally get to the Old Country - and Europe afterwards - to say goodbye.
Article continues below advertisement
As long as we're on the topic of touring, you were David Bowie's guitarist during his Glass Spider tour. I actually caught the San Jose show, and it was amazing. The band X opened up.
[Long pause.] They did? [Bursts into laughter.]
They did. I still have my ticket stub. I have documentation.
I believe you! Every gig looks the same to me, unfortunately, apart from a couple.
You mentioned in your memoir (Do You Feel Like I Do?) that it was challenging - albeit a challenge that you enjoyed - to have to match the work of other guitarists from Bowie's past recordings. Do you remember which song was the most challenging?
Well, the thing is, on the most recognizable guitar parts, like "Heroes," there's the part and you have to do it. That's just how it is. And that was okay, except for the fact that I didn't realize that Robert Fripp had used an e-bow. So I was just using feedback. [Laughs.] So I was really loud on that number! But, no, that wasn't as much of a challenge as "Let's Dance." Anything with Stevie Ray Vaughan on there. It's so iconic. His playing on that album, Let's Dance, was an eyeopener for every guitar player. But I don't do Stevie Ray Vaughn. I don't do Adrian Belew or Robert Fripp. I do me. And David said, "I just want you for you. Don't copy everybody else." And we agreed. There were certain parts that had to be there, but basically... Like, in "Loving the Alien," that was my big party piece, where I got a long extended solo at the end, that was Frampton Plays Bowie, basically.
Did you ever get a chance to hear the reimagined version of Bowie's Never Let Me Down album?
I haven't yet. I should listen to it. I don't believe I'm on it, actually! I don't believe there's many parts that Reeves [Gabrels] kept.
Article continues below advertisement
Speaking of your memoir, as someone who's spent as much time writing about TV and film as I have about music, I was surprised that I'd never known that you'd done a guest spot on Black Sheep Squadron in 1978.
[Laughs.] Yeah, that was just out of sheer... Well, love of the show and of Robert Conrad. I mean, who didn't love Wild Wild West? And then Baa Baa Black Sheep, which was changed to Black Sheep Squadron because people thought it was about sheep! But, yeah, I'd just been on a sh**ty movie set for six months or more, not saying a damned word and just acting like a combination of the Beatles and the Monkees, and I just hated that so much that when I saw Robert Conrad at an awards show afterparty at a restaurant, I said, "I've gotta go over there and say hello!" So I went over and I said, "I'm a huge fan, and if you ever need a walk-on part, it would be my honor to just be someone in the background or whatever."
So he was sitting next to the producer, I think, and 10 days or so goes by, and I get this script...and it's, like, one long monologue! The whole episode was a Frampton monologue! And I thought, "Oh, dear... This isn't what I really wanted...." But, anyway, I rose to the occasion, I did it, I was...okay. I enjoyed the hell out of it. I got so much experience in that area. And Conrad was a lovely man, and so was everybody on the show. You know, Red West was there [in the cast] with his Elvis stories. All the cast and crew were just really jazzed that I was there...and I was, too! I was on my favorite TV show! That's the reason I did it. I loved that show!
I will only just add that I have the paperback novelization of that sh**ty movie you...didn't reference specifically.
[Bursts out laughing.] Is there enough to make a book out of it?!
I mean, I'm not going to lie to you: it's better than the movie.
Of course it is! [Laughs.] Usually you option a book and write a script. This time, the script was blank, basically. They didn't write anything...and then they wrote a book!
Article continues below advertisement
In looking through your back catgalog of artists you've worked with, there's one that I don't think you touched on in your book. Do you remember anything about working on Jobriath's albums?
Yes, that was when I was very first coming to New York, and...I believe it was while we were recording Frampton's Camel with Eddie Kramer at Electric Lady. He was producing Jobriath, and he played me a couple of things, and I loved it. And then they said, "Well, would you play on this?" And I said, "Absolutely!" I was sort of still in my session man thing after I left Humble Pie. That was how I was making my money until I started touring myself. But, yeah, I really enjoyed it. Nice man.
And I know you played on George Harrison's "My Sweet Lord," and I read a quote where you said you played on "six or seven other songs" on All Things Must Pass, but...do you recall what the other songs were?
Oh, gosh, I know I should go and figure it out. But if there's an acoustic on it, I'm on it, basically. I just played acoustic sitting next to George, and then the other side of George was three of the guys from Badfinger. So there were five acoustics on every track that had an acoustic on it. [Laughs.] I'm basically on the more country-type ones, because that's where I met [pedal steel player] Pete Drake. So "Behind That Locked Door," "If Not for You," and... Gosh, I can't remember.
But the reason I can't remember is because two weeks later, that's when George called me up and said, "Would you come back and just the two of us... Phil Spector wants more acoustics." I said, "More acoustics? There's five acoustics on every track!" He said... [Doing a spot-on George Harrison impression.] "Yeah, he wants more." So I went down, and it was just the two of us, me and George. And that's when, after we doubled up on the tracks that I'd played on, they kept on putting up tracks I hadn't played on, like "My Sweet Lord" and all of these others. So I said, "Well, wait a second, you'd better teach me this one. I don't know this one!" So we'd take a couple of minutes - I'm a quick learner - and it was easy. But that's why, when people ask, "How many tracks did you play on?" I say, "I don't know." That's why I say, "If you hear an acoustic..." We probably did five or six tracks that I wasn't on, maybe more, when it was just the two of us. So I can't remember!
Article continues below advertisement
As far as your more recent studio work, you're on a couple of tracks on Dolly Parton's new album, including one with a decidedly all-star lineup working alongside you.
Right! Well, it all started... I got to speak with Kent Wells, Dolly's producer, here in town, whose brother is actually my dentist as well. [Laughs.] It's a small world! But I saw a friend in a restaurant who I hadn't seen for awhile, and he said, "Oh, I just finished doing backgrounds on this track for Dolly that Steven Tyler's singing on." I said, "Oh, wow, that's right, she's doing that rock album!" So I went home, and I called my manager, and I said, "You know what? Dolly's doing that rock album. I'd just love to do a solo. It'd be my honor." And he said, "I'm on it! Let me get hold of them."
So now I'm talking with Kent, the producer, and he said, "Peter, you just want to do a solo?" I said, "Well, yeah, I figured that you've already got all the people doing the duets and everything." So he said, "Well, no, not really, because it's a lot of tracks that we want to do." So it started off with him saying, "Would you ever think about doing one of your own numbers with Dolly?" I said, "Let me think about that. YES!" [Laughs.] And he said, "Let me get back to you." He calls me back within 10 minutes and says, "Dolly wants to do 'Baby I Love Your Way' with you." I said, "Oh, my God! Okay! Yes, of course!" So we did that.
But before I let him get off the phone, I said, "I know I came in and lowballed you with a solo, wanting really to have a duet, I'll be honest..." [Laughs.] The possiblity, anyway! But I said, "And that's fine, we'll do 'Baby I Love Your Way,' but what am I gonna play guitar on?" He said, "Hold on a minute: there's one she's written, or there's... Oh, I know: How would you feel about playing the solo on 'Let It Be'?" And there was silence on my end. And I said, "Uh, is she doing a duet with Paul?" He said, "Uh-huh." I said, "Oh, my God. Of course, yes!" And then I hear that my dear buddy for many years... I've known Paul, too, but I'm much closer with Ringo, since I was, like, 20 years old. So he's on it, and Mick Fleetwood's playing percussion on it, too! And I told Kent, "I'm not gonna rehash the Beatles' solos." Because there's two versions: one that Paul McCartney played the solo on, and one that George played the solo on. The main one is George. And I said, "It's gonna be Peter Frampton plays the Beatles." And he said, "That's what I want. I don't want you to copy anything." So I said, "Brilliant!" And that's why I changed it up. If I'd been asked to do the session, that's what I would've played.
Article continues below advertisement
Well, I know I've already made you run late...
No, that's okay. If you've got another question, it's fine. The other interview I had in a little bit just got postponed.
In that case, I'm a huge Simpsons fan, so I just wanted to hear about your experience. I know you were pretty giddy that you came up with a line that actually made it into the episode, which is pretty amazing.
Well, yeah! [Laughs.] That blew my mind. That was the most exciting part! The whole thing took 50 minutes. They were so professional, so welcoming, and so open to my input, which... I mean, obviously, I went in there just as an actor, doing what they wanted. But they wanted me to bring more of me to it than I thought. So they said, "This one section, you're walking offstage, past Homer, and what would you say?" So that's when I said, "I've been in this business 25 years, I've never seen anything like this..." And I literally walked past the microphone, so you actually sort of hear me come and go. And then, to my total surprise, when I eventually saw the episode, they animated my line! It was the best! I'm so honored that they did that. So it was a great experience, and I got word from the inner sanctum, from the writers and producers, that I was one of their favorite guests.
It was a great performance in a great episode.
Yeah, to be in that particular episode, which is in the top ten of just about everybody's favorite Simpsons episodes... It doesn't get any better than that.